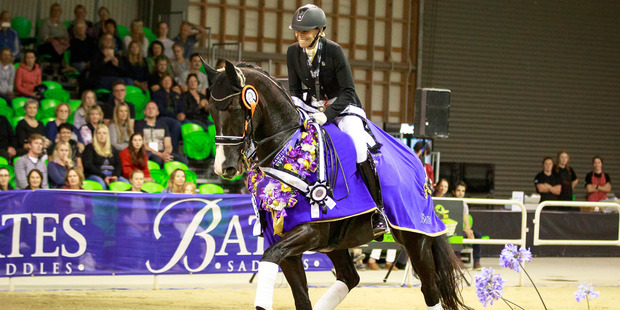 A horse bred in the Far North has qualified for the dressage world cup finals in America later this year.
Hailing from Awanui's Matthews Hanoverians, Deja Vu MH, ridden by Wendi Williamson, of Waimauku, won the FEI Pacific League World Cup Dressage Final at Manfield Park in Feilding over the weekend of February 4-5.
In front of top level judges from both New Zealand and overseas, the pair notched an impressive 75.725 per cent score in a personal best performance to win the Grand Prix Musical Freestyle class.
The combination also turned in a NZ record in their Grand Prix victory with 71.22 per cent to secure the Burkner Medal (as the top combination at the dressage nationals), and also won the Intermediaire II on 70.421 per cent.
The results earned Williamson and Deja Vu MH a berth at the FEI World Cup Final in Omaha, Nebraska, from March 29 to April 2.
Williamson believed the horse - which she bought as a foal off Awanui breeders Peter and Judith Matthews - still had plenty of potential to be revealed.
"I have had a number of international trainers tell me he is a horse capable of high 70s, and I feel if I can't achieve that I will have let him [Déjà Vu MH] down," she said.
"To get to 70 per cent is hard, but to get beyond that is something else. It takes a lot more power and expression, softness and accuracy, and is just quite different.
"You can do the movements but you have to do them with real expression and cadence, and I feel I can now see a pathway to do that."
Wendi and husband Johnnie now face a busy few days working through the logistics of getting their horse to the States, a complicated process which may see him transported to Europe first.
Back in the Far North, Matthews Hanoverian owner Judith Matthews was over the moon about the result.
"It is really exciting for this to happen," she said, adding Deja Vu MH was an 11-year-old black gelding by de Niro out of Adelheid MH.
Another horse bred by the Awanui stable, Raukura Sitori MH, also competed in Fielding but didn't do quite so well. However, just being there represented a major coup, said Matthews.
"This is the highest level of dressage in New Zealand and having two competing out of a field of six is great for our small stud."
- Additional reporting Diana Dobson ESNZ