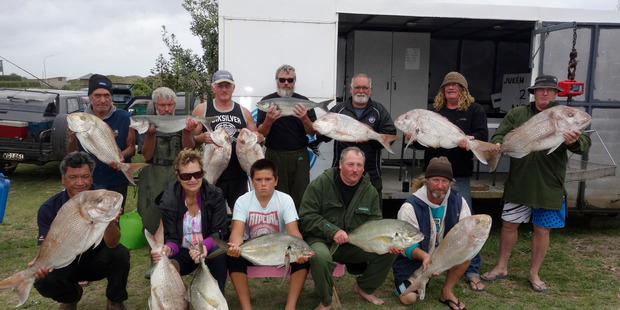 With the snapper being particularly prolific off the Far North west coast over the past few weeks, one local commentator believed this boded well for those anglers competing in next month's Captain Morgan Snapper Bonanza.
According to the 90 Mile Beach Surfcasting Club reporter, Jack Rogers, the fishing on the beach at the moment is as good as it has ever been and he used the accompanying photo from a club field day earlier this month as evidence.
In his report on the contest (which featured on the back page of the Age last Thursday, Heavyweight haul takes the tankard), Rogers noted the 41 anglers registered ended up bringing a total of 93 snapper, 12 trevally and 20 kahawai to the weigh-in at the conclusion of the 24-hour event, making it "one of the best ever".
"A picture tells a thousand words and this picture [nearby] certainly tells it as it is on the 90 Mile at the moment. The fishing has become more action-packed and gone are the days when only the elite surfcasters were the anglers on the podium. There are definitely more fish about and being caught on all stages of the tide not just on the low tide."
Rogers went on to note the fishing was again good for 90 Mile Beach Surfcasting Club last weekend when anglers fished for the highly prized Hukatere Hook Trophy.
"Again there were lots of fish weighed in and a good turnout of club members and visitors alike," he said. Roger's report on the Hukatere Hook will feature shortly.
In a particularly strong fishing edition this week, images and tall stories of other fish caught by local anglers recently can be viewed on page 15.