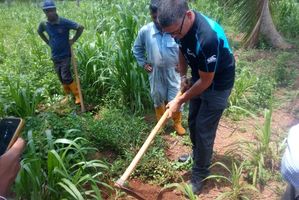 Whakatane dairy farmer Troy Doherty says spending four weeks in Sri Lanka as part of a volunteer scheme organised by Fonterra opened his eyes to an industry that is light years behind New Zealand.
He was part of a delegate of four farmers selected nationally for a farmer volunteer scheme designed to share knowledge and insights.
Fonterra has been operating in Sri Lanka for more than 35 years - and Prime Minister John Key opened Fonterra's new demonstration farm in the country in April.
Fonterra communications adviser Anna Johnstone said the programme "helps us build a healthy dairy industry in an important market for Fonterra".
"We're now evaluating the programme to decide future plans."
Fonterra Brands Sri Lanka managing director Sunil Sethi said the co-operative was committed to creating stronger farmer families by sharing its knowledge and expertise.
"Fonterra has over 100 years of dairy farming experience and our co-operative structure is built on innovation, an attitude of working together, and a willingness to try new things.
"Ultimately, through training and education we believe we can support local farmers to produce higher quality milk which will create a more economically viable and sustainable local dairy industry to help us meet the growing demand for fresh dairy products," Mr Sethi said.
Mr Doherty had been in the sector for 10 years share milking after a successful corporate account management career in the dairy industry on the "other side".
The change in direction was prompted by a desire to return home with wife Karen to raise their daughter near whanau.
"We both thought we would give farming a go and if we didn't like it we weren't too worried."
The couple milk 570 cows and Mr Doherty was not afraid to admit it has been hard "but really good".
"We have learnt a huge amount. I had not milked a cow before we started so we went from that to purchasing the cows a year later so it was a huge learning curve for us. In hindsight that was great because it forced us to be good as quickly as possible.
"We also took on a lot of debt as most people do and that makes you work harder as well so we had an incentive to do well. Overall it's been great."
The pair had also overcome the highs and lows of dairy payouts and Mr Doherty said they learnt a tough economic lesson in their first year "which set us up really as we knew we had to farm at a low cost".
The 40-year-old said his trip to Sri Lanka in April made him realise how far the New Zealand dairy industry had progressed.
"The industry in Sri Lanka is completely different. A big farm would be 10 cows and they have multiple issues going on. They farm to feed their family and if they have any milk leftover they sell it."
Milking was done mostly by hand or a few sheds had small machines while 40 per cent of farmers were women, he said.
Fonterra farmers transported milk in cream cans to collection centres and a truck would pick it up and take it to the factory.
"There is 400,000 plus dairy farmers and 200,000 sell milk. When you drive in the country all you see is rice paddies and coconut plantations or pineapples."
Cows were kept tethered in small barns and fed grass, scrub and stalks that had to be chopped daily.
On average a cow in Sri Lanka would produce seven litres of milk a day compared to a New Zealand cow that could reach 30 litres in the peak of the season, he said.
The volunteers shared simple knowledge that could increase production.
"They could still feed grass but not the rubbish while good farmers could make their own fodder crops if they had the land to plant it. By giving them water they could also increase their milk by 50 per cent because a lot of them only give them some water at lunchtime and then at night."
It was also interesting to visit and lend a hand on Fonterra's demonstration farm which had 20 cows on about 4.5 hectares, he said.
Meanwhile, Fonterra had employed extension training staff to advise its dairy farmers in Sri Lanka and they were getting great results.
"This one guy followed every bit of advice and he is producing over 20 litres with his two cows which is unbelievable for there. Those sort of things are cool to see and he is just flying. It can be done."
Mr Doherty said Fonterra enjoyed a big presence in the country. "Fonterra has a strong relationship with Sri Lanka. Everywhere you go you see Anchor and it's the biggest brand there, which is mainly milk powder."