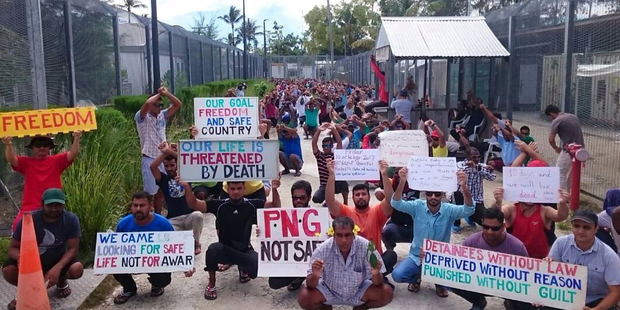 Ms Ardern prances around on the world stage, demanding that Australia hand over 150 'asylum seekers' from the Manus Island facility — essentially from the agitators remaining on Manus, many of whom are arrogant, aggressive young males being trouble looking for a place to happen.
You could multiply any numbers taken tenfold, because under current New Zealand immigration policy they could potentially seek to bring in say up to say 10 relatives each.
Australia is falsely accused of human trafficking for sending offenders to Manus, and the bleating is unbelievable. They're not asylum seekers, simply opportunists, paying people-smugglers to launch them off the Asian mainland in rust buckets leaving them for Australia to deal with. The people smugglers, the opportunists themselves and the governments that promote this offending are the culprits.
Aussies should simply turn the boats around and shunt them straight back to where they came from. Yes, it's Australia's problem, not ours, and Aussies rightly believe these misfits will eventually get New Zealand passports then return to Australia, as history shows New Zealand is only generally ever used as a stepping stone.
Make no mistake, Australia is seething over this nonsense, as it already takes 15,000 refugees annually.
I heard one Manus Island agitator whinging that he went to Australia not simply to end up in a prison. Well, as illegal, uninvited immigrants, what did they expect?
The Greens' stark raving bonkers plan was to go to Manus Island, pick up the malcontents and lay out the welcome mat. It costs Aussies billions to support these trouble-makers, so the obsessive Ms Ardern / Labour Party and Greens need to pull their heads in.
Greens want a Parihaka Day, a public holiday for a fabricated rewritten piece of history in exchange for supporting Peters' waka-jumping trivia — consign both to the trash can.
Greens want non-disclosure of fathers' names for WINZ benefits made acceptable.
Ms Ardern (Ms. 36 per center) is back in New Zealand only five minutes then rocks into Rotorua and starts ingratiating herself to local Maori interests, waxing lyrical on the multi-billion fatuous mythical 'Maori economy,' which is a delusion created by Kiwi taxpayers' on-going funding, including regular top ups, no meaningful tax paid and preferential race- based treatment.
She then goes off on a tangent about aiming for a true partnership presumably between 15 per cent part-Maori and 85 per cent rest of us Kiwis. Is that an 85/15 or 50/50 partnership?! Either way it is wrong and a rort.
Let's not overlook the inane Pike River manned re-entry farce, with quangos all over the planet costing $27 million.
Loose lips sink ships and the socialist equal sharing of miseries looms large on the horizon. After this lot have finished the huge fiscal gap and new taxes will be something to behold.
ROB PATERSON
Matapihi