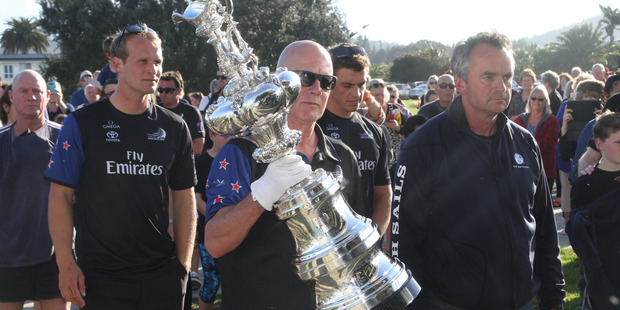 Something extraordinary happened at Taipa on Friday, when several hundred people converged on the Taipa Sailing Club to see the America's Cup as it began a tour of smaller centres the length of the country. The response wasn't in the least extraordinary, but the informality was.
The cup was paraded from the nearby Ramada Reia Taipa Beach Resort with some pomp and ceremony, after sailing club members and supporters had had some time with it in semi-private, arriving at the club rooms on the back of Gary Steed's four-wheel-drive and preceded by a couple of Maori warriors. And it was treated with the respect it deserved, fans of all ages admiring it but not touching it, and queuing for autographs from the handful of Emirates Team NZ representatives who were there.
What was totally unexpected was the sight of an eight-year-old girl methodically making her way through a cup of hot chips with one hand while she held the wheel from the Cup-winning catamaran with the other. Next to her an even smaller boy enjoyed a hotdog while holding helmsman Peter Burling's control box, while another waited to try on Burling's sailing kit, including his helmet.
Security was nowhere to be seen. No one was ushered behind ropes and told to stay there. No burly minders stood ready to pounce should anyone try to take off with a souvenir. It was all very relaxed, happy, and so unlike anything that could be imagined anywhere else in the world.
The crowd was by no means dominated by children, but those who were there no doubt went home with memories that will last them a lifetime.
Well done to Team NZ for allowing that. A lot of days were well and truly made on Friday, with a genuine display of gratitude for the support shown by fans of all ages while some of the best sailors and support crew on the planet were winning international sport's oldest trophy half a world away.
"A lot of days were well and truly made on Friday, with a genuine display of gratitude for the support shown by fans of all ages while some of the best sailors and support crew on the planet were winning international sport's oldest trophy half a world away."
Perhaps we can now finally put an end to the myth that the America's Cup is just a rich man's sport. Certainly it attracts the immensely wealthy, but there was no sign of that at Taipa. New Zealanders have always enjoyed seeing their countrymen succeed, especially against powerful opposition, and the excitement amongst those who accepted the invitation to see the cup and to meet some of those who helped win it was palpable.
And if the occasion gives the Taipa Sailing Club a new lease on life then so much the better. Adrian White, one of the Emirates Team NZ shore crew who were there on Friday, proudly identified himself as Ngati Kahu, all the way from the Karikari Peninsula. Don't be surprised if a future Team NZ features one or two who began their sailing journey at Doubtless Bay.
Speaking of only in New Zealand, if Friday afternoon at Taipa represented all that is good about professional sport, then the debacle that unfolded last week as final preparations were made for New Zealand's challenge for the Rugby League World Cup came from the other end of the spectrum.
Whatever it is that plagues rugby league in this country, at least at NRL and international levels, it shows no sign of going away. And the response to Jason Taumalolo's decision to play for Tonga rather than New Zealand does not augur well for the future.
Taumalolo is of Tongan descent but was born in New Zealand, and was expected to play for the Kiwis. Widely regarded as the best forward in the NRL, if not the world, he was touted as the key to a Kiwi success, nine years after New Zealand last got its hands on the trophy by trouncing the Kangaroos, His 'defection' to Tonga was, therefore, disappointing to many, but the reaction in some quarters was disgraceful.
Theories abound, one of the more popular being that Taumalolo, and other lesser lights who followed him out of the Kiwis, were protesting over the non-selection of Jesse Bromwich and Kevin Proctor, neither of whom were considered after being involved in an illicit drug transaction in Canberra after another hiding from the Australians earlier in the year.
The feeling within the game seems to be that Bromwich and Proctor have learned their lesson and should be back in the fold.
The feeling outside the game might well be that these two players, who would otherwise have been automatic selections for the World Cup squad, let themselves, their team and their code down so egregiously that they should never play for their country again. Perhaps others will learn from this, and the game will finally begin to make some progress in terms of setting a benchmark for player behaviour off the field.
It is difficult not to believe that talented rugby league players, here and in Australia, know that if they misbehave they will soon be forgiven, providing they have sufficient talent to make them valuable to their club or country. It is time they were disabused, and the dumping of Bromwich and Proctor will have done the game a huge service if it helps hammer that message home.
Ironically, the criticism of Jason Taumalolo might prove harder to shift. He now stands accused, by other players and commentators, of disrespecting the New Zealand jersey.
Former Kiwi Benji Marshall has described the events of last week as embarrassing for the game - and he obviously has high tolerance for embarrassment given the behaviour of some Kiwis in recent years - and the rule that allowed Taumalolo to leave News Zealand for Tonga as bizarre.
He accepts, then, that Taumalolo has acted within the rules. That's something. Granted, Taumalolo could have handled this better by not leaving his announcement so late and finding some means other than text message by which to convey it to the selectors, but he is getting no credit where much credit is due.
Who knows if there is more to this than he is letting on, but he is saying he will play for Tonga, a team that is not going to win the World Cup (whereas, on a rare good day, the Kiwis might), to give the game in Tonga a boost. He wants young Tongans to realise by his example that the game might offer them a career.
His gesture is a generous and commendable one. If international league is to become more than the three-country club it is now, it will be thanks to gifted players who can see beyond their own interests.
The most revealing criticism perhaps was that Taumalolo had lost sight of his own best interests. Playing for Tonga, he would be paid NOTHING! Maybe he doesn't need the money. Maybe he does, but he sees a bigger prize. Maybe the man has principles. Maybe he's thinking of the game's future rather than his own. Maybe the game needs more people like him.
Maybe if some of the Kiwis set themselves higher standards he and a few others would be keener to play with them. Maybe he's just sick of the shambles that league in this country seems to have become.
The last word can go to Benji Marshall: "I just don't know what part of society has changed that you all of a sudden decide three weeks out from the World Cup you are not playing." If this really is a societal change, then maybe it's one for the better.