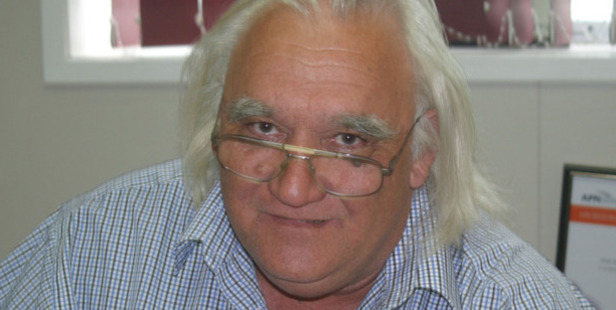 Like it or not, Deputy Mayor Tania McInnes is right when she says the name Far North comes with "baggage."
So, more specifically, does Kaitaia, thanks in large part to the metropolitan media, which seize upon the negative with glee and generally overlook the positive.
But there is a very positive side to what used to be New Zealand's northernmost borough.
Kaitaia resident Leonard Skinner demonstrated that, again, when he tackled two armed men who seemed intent on doing each other grievous bodily harm, or worse, outside his home in Bonnetts Road.
Mr Skinner displayed extraordinary courage when he relieved one man of an air rifle and a baseball bat, then took a loaded shotgun from another as he allegedly tried to shoot the others in the back as they ran away.
They were spared by the fact that the shotgun's safety was engaged, and potentially by Mr Skinner's intervention.
That story, incidentally, made the NZ Herald's website, where it attracted barely a flicker of interest. It deserved better.
Leonard Skinner has rightly been described by Northland Age readers as a hero. Police in Kaitaia believe he deserves formal recognition for what he did, not only on behalf of the men involved but more importantly in acting to enforce what he believes is an acceptable standard of behaviour. He gave us all a lesson in the process.
Every so often one meets people who restore one's faith in human nature, and Mr Skinner is one of those. He has returned to Kaitaia after an absence of 14 years, and is not impressed by what he sees.
He is appalled by the violence that is routinely displayed in the street outside his house, behaviour that he does not want his children to witness, although it is unlikely that they will descend to that sort of behaviour as they grow older.
He believes in the good old-fashioned values that were once standard in Kaitaia, and throughout New Zealand.
He teaches his children to be honest and polite, to expect that they will need to contribute to the community by getting an education, supporting themselves and their future families by working, and generally being good people who give rather than take.
He obviously feels at home in Kaitaia, and would like to stay there, but that isn't a given.
Once he has undergone the surgery he needs to repair a back injury he will be returning to work, and if that means leaving Kaitaia, that is what he and his family will do. Hopefully it won't come to that.
Kaitaia needs people like Leonard Skinner and his family. They are the remedy to what ails the town, and so many others like it.
They are the role models who are needed now more than ever, even if there are few who would act as selflessly as he did when these men set upon each other outside his home.
Few have it in them to put themselves in harm's way as he did that afternoon. Most, the writer included, would more likely have barricaded themselves in their homes and called the police. Relieving people of loaded shotguns is their job, not ours, and no one could be excused for leaving it to them.
Mr Skinner says his first (and probably only) thought was that he did not want to see another shooting in Kaitaia.
Certainly he was motivated by his desire to protect his family, but they were in no danger, immediate or otherwise. He did what he did because he believes his town deserves better than what he was witnessing, and he did something about it.
He might have more courage than most, but the majority of Kaitaia folk would want what he wants, a town where people can go about their business - in his case mowing his lawns - without witnessing this sort of mayhem.
Those involved in this incident will go before the courts in the fullness of time, and will hopefully get their just desserts, but it is the community's refusal to tolerate this sort of behaviour that holds the most promise for change.
Violent confrontations like this are hardly an everyday event, but we all know where Leonard Skinner's tolerance for violence ends, and we should all resolve to follow his example.
Others might not share his courage, but they can play their part simply by not turning a blind eye when they see unacceptable behaviour.
That is what the police have long been asking the public to do, not necessarily by physically confronting offenders but by dialling 111. We can all make our place, wherever that might be, safer and happier by drawing our own line in the sand.
If every good and decent person in Kaitaia decided that they had had enough of those who bring their town into disrepute, then maybe things would begin to change.
On second thoughts
Deputy Mayor Tania McInnes is owed an apology. Like most kneejerk reactions, the response to her suggestion that it might be time to find a new name for the Far North District was not warranted. And the writer is more to blame than most.
Perhaps, as she has graciously conceded, she did not express herself as clearly as she might have, but that is no excuse for not considering her suggestion more intelligently and carefully.
Having done that, somewhat belatedly, the writer agrees that perhaps it is time for a new name, one that better expresses the district's geographical boundaries and the communities within it.
The rider, of course, is that what used to be the Mangonui County, which starts at the southern foot of the Mangamuka Gorge, remains the Far North.
Ms McInnes does not disagree with that. In fact she would likely defend it as strongly as those who regard the name with great affection, and have poured scorn on her proposal.
The fact is, 'Far North' does not sit well over the district as a whole. Even some critics, the writer included, have conceded that.
The district also comprises the Hokianga, the Mid North, and most famously the Bay of Islands.
The residents of those communities clearly want to keep those names, and so they should. But that still leaves the need for a name to describe the district as a whole.
There should certainly be no objection to Ms McInnes' suggestion from the community that now often describes itself as the Real Far North.
In fact it should be delighted, given the view that the name Far North was purloined when the new local authority was created in 1989.
Real Far Northerners should welcome this as a chance to restore the name to their corner of the district, which is what so many appealed for when the Local Government Commission imposed its will almost 30 years ago.
That so many people leapt to the wrong conclusion can perhaps be partly attributed to the way in which Ms McInnes presented her idea, but this column contributed significantly to that response, and now apologises for doing so.
We can be assured that this is not a plot to deprive anyone of anything, and never was.
Perhaps now we can all take a deep breath and think about what our district might be known as, and thank Ms McInnes for what might be the first step towards restoring the name Far North to the people who firmly believe that it belongs to them and no one else.