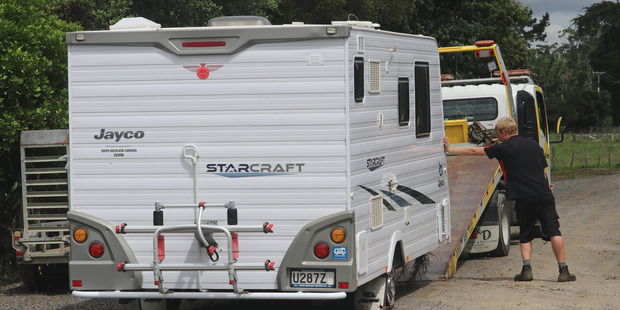 Almost all the machinery stolen in a ram raid at a Bay of Islands quarry last weekend has been recovered, with one arrest so far.
The thieves drove through a fence at Broadspectrum's Puketona Quarry, near Paihia, cut through a second internal fence, then broke into a site office and three utes before making off with an estimated $250,000 worth of machinery including diggers, trucks, trailers, and even a roadsweeper.
Within less than 48 hours police had located almost all the stolen machinery at properties on Whakataha Rd, Waimate North, and Waiotehue Rd at Takahue.
Detective Sergeant Chris Fouhy said nine vehicles, including trailers, a digger, cars, a caravan and a tractor with a roadsweeping attachment, had been recovered from the first address. The cars and caravan had been taken from locations other than the quarry as recently as a week earlier.
A semi-automatic rifle and two shotguns were also seized.
Meanwhile a GPS tracking unit on another digger led police to the Takahue property, where they recovered the digger, a truck and another trailer. When the offenders realised one of the trucks was being tracked they drove it to the gravel dump next to the Okaihau bottle store on State Highway 1 and tried to set it alight, some time around 7am-8am on Monday.
Mr Fouhy said an 18-year-old man had been arrested, and was facing a raft of dishonesty and firearms charges, but it was obvious that "a whole crew" had been involved.
They had entered the quarry at about 1am on Sunday, leaving in a convoy of stolen vehicles, then returned about 3am for a second haul.
Mr Fouhy urged anyone who had seen suspicious activity around the quarry, or had seen the stolen machinery on the move, to call the Kaikohe police station on (09) 405-2960, or Crimestoppers, anonymously, on 0800 555-111.
Broadspectrum's Far North branch manager, Mike Grimshaw, said all that was still outstanding yesterday was a subcontractor's truck and excavator.
Damage to the stolen vehicles was mainly cosmetic, but one of the three utes broken into in the yard had been severely damaged, as if the offenders had tried to break into it with a sledgehammer.
Mr Grimshaw suspected they wanted to use it to tow some of the machines.
Staff were now trying to make the quarry "as thief-proof as possible," he added.