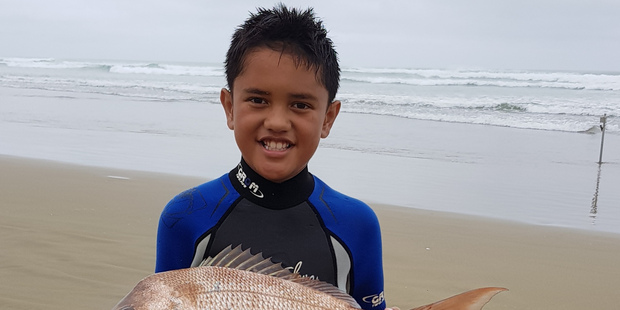 Many fishermen have battled the elements on 90 Mile Beach with not a snapper to show for it, but eight-year-old Kaitaia boy Mekhi Heka is not destined to be one of them.
Mekhi is pictured with the snapper he caught on his first outing as a member of the 90 Mile Beach Surfcasting Club, and the excitement didn't end there.
The picture, taken by his mum, Ngauru, won the January round of Fish4all's best fishing experience photo competition, which landed him a $500 sporting goods voucher.
Mekhi chose to redeem it at Rider's Sports Depot in Kaitaia. Ngauru said he had purchased a reel, and was now waiting for a rod to arrive.
Mekhi might well have his dad and fishing tutor Stephen to thank for his success.
Father and son are equally keen fishers, and joined the surfcasting club together.
All the signs are that the student is catching on fast.
The photo competition, meanwhile, was looking for pictures that illustrated a great fishing experience, as opposed to how many the subject caught or how big the fish were.
Mekhi got 316 votes from whanau, friends and the wider community, and even some from Norway, Chile and Italy.