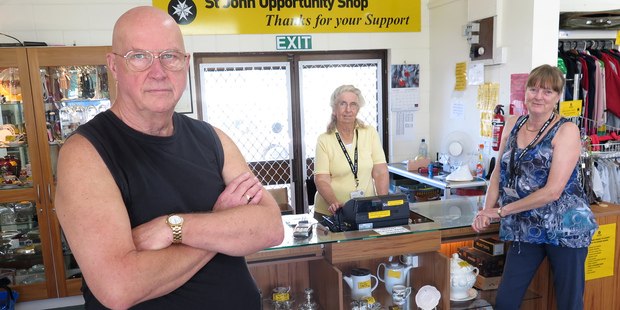 Escalating vandalism is frustrating volunteers at a Kerikeri op shop, who say the cost of repairs means less money for ambulances and medical equipment.
The latest spate of vandalism at the St John op shop, at the corner of Cobham Road and Hobson Ave, began in December, when someone scratched their name into two large streetfront windows.
During the New Year break someone broke open the building's meter boxes and ripped out the meter board, and around the same time outdoor light sensors at the rear of the building were smashed.
A few days after the sensors were replaced they were smashed again.
Acting shop manager Terrie Flores said the "very annoying" vandalism was not new, but it was escalating.
The damage to the meter boxes was a serious inconvenience because it left the shop without power and Eftpos.
It had also cut power to the business upstairs.
The meter boxes had been made safe, but it was not yet known how much permanent repairs, which could involve a new meter board and more secure boxes, would cost. Replacing the windows would cost thousands of dollars, and the shop had also had to pay for extra CCTV cameras.
Mrs Flores urged anyone who saw anything unusual or suspicious at the shop to report it to police immediately, no matter how petty it seemed.
"People can help by keeping an eye on the shop. It's their shop as well," she said.
St John Kerikeri area committee chairman David Stone said the ongoing damage was "sheer mindless vandalism" that was of no benefit to anyone. He was surprised no one had been killed when the meter board was pulled out.
"The thing that irritates me about all of this is that money we have to spend on repairs is money we can't spend helping the community," he said.
Proceeds from the volunteer-run op shop would otherwise go to new ambulances and medical equipment such as defibrillators.
* A Kerikeri boy is being dealt with by Police Youth Aid for damaging glass at the St John op shop and the nearby Procter Library. He had reportedly vandalised windows directly below a CCTV camera.