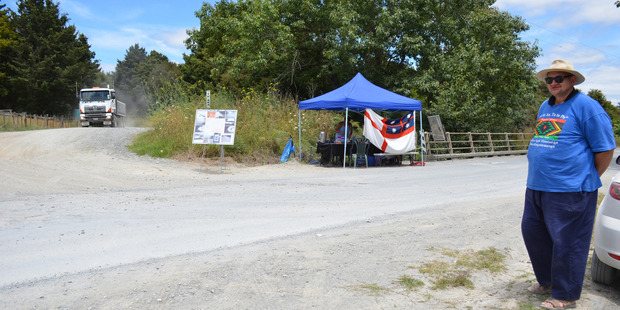 Relief is in sight for residents on some of the Far North's dustiest roads thanks to a funding agreement between the Far North District Council and the NZ Transport Agency.
The NZTA has approved a council request to reallocate agency funds so it can dust-seal two critical sections of Ngapipito and Pipiwai roads, where the dust problem has become acute thanks to an increase in log trucks.
The funding agreement will see 4.11km of Ngapipito Rd and 1.91km of Pipiwai Rd sealed. Work will begin this month, and is due for completion by April.
The FNDC's operations committee chairwoman, councillor Ann Court, said the agreement to reallocate funding had enabled the council to address significant summer dust problems, and improve the district's unsealed road network.
"This is a great result for families living along these roads, who are dealing with unacceptable levels of dust. I am happy that they will begin experiencing significantly improved conditions before the summer is over," she said.
That did not mean that all dust-prone roads would now be sealed, however.
"A very high threshold is applied by the NZTA before funds can be reallocated for dust mitigation," she said.
"In this case we demonstrated that forestry traffic will be using these two roads for at least another 10 years, and that the cost of applying normal levels of dust suppressants over a decade would be similar to sealing them."
Ngapipito Rd resident Murray Armstrong, who has been lobbying the council to fix the dust hazard on a 4.2km stretch of road for five years, said residents were excited by the news. He had made submissions, documented the dust and potholes, and organised a series of road blocks last summer to highlight the problem.
The fine dust contaminated water supplies, affected breathing and forced residents to keep their windows shut even in the height of summer, Mr Armstrong said, affecting 13 households over the 4.2km.
Meanwhile, the NZTA has also agreed to further dust reduction measures by approving the reallocation of additional funds to strengthen and improve the resilience of more than 40km of unsealed roads. An 11.35km section of Ngapipito Rd, 11.26km of Pipiwai Rd and 18.21km of Matawaia-Maromaku Rd will be upgraded.
Work will include laying geotextiles to strengthen road edges, extend culverts and improve drainage. The council will also improve visibility on corners.
Ms Court said the strengthening work, which was due to be completed by May, would reduce the cost of maintaining the busy forestry routes for at least another five years, allowing the council to divert maintenance funds to other parts of the district's unsealed road network.
The council would seek funding to carry out more dust mitigation and strengthening work as soon possible, she added.