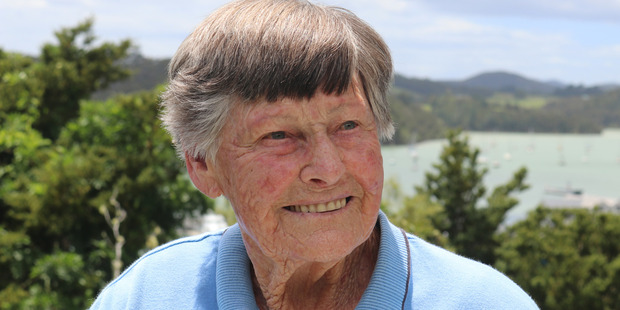 Opua identity Myra Larcombe was awarded the Queen's Service Medal in the New Year's Honours list, in recognition of more than 70 years of teaching young Northlanders to swim.
The 90-year-old said she felt honoured but also flabbergasted, because she believed she was too controversial and outspoken to be recognised.
She received a lifetime achievement award at last year's Halbergs, where sporting greats such as Peter Burling and Valerie Adams reportedly queued up to have their photos taken with her.
Seventy-one years after becoming an instructor at the Whangarei Swimming Club she is still teaching, these days as a Top Energy WaterSafe instructor at Opua and Russell schools, where she often finds herself teaching the grandchildren of former pupils.
She began swimming competitively in 1946 and set a raft of New Zealand's Masters records, including one set 1997 and bettered in 1998, which was only broken last year.
Mrs Larcombe puts her fitness and love of sport to growing up "free range" on a Waikare Inlet farm, where her father ensured all the kids were strong swimmers, and where she had to row 3km to catch a train to get to school in Kawakawa.
Her passion was helping people to swim efficiently, "because efficient swimming is survival swimming", taking that further than most by immersing herself in the study of hydrodynamics. She despairs at what she describes as the recent "dumbing down" of swimming training.
She also has a long record of service in coaching and sports administration. In 1974 she co-founded of the Bay of Islands Swimming Club, and remained as an administrator until 2010.
Nor are her achievements limited to sports. She has become a go-to person for local history, and in 1951 she joined the NZ Police, one of the first women to do so. When transferred to Whangarei in 1954 she was Northland's first female police officer.
A total shoulder replacement in 2003 means she can no longer row competitively or swim butterfly, while a sore hip has put an end to running, but she still goes to Kawakawa as often as she can to "plough up and down the pool".
Her other awards include a Sparc Lifetime Achievement Award (2004), Sparc Northland Volunteer of the Year Award (2004), Swim Coaches and Teachers of NZ Award for Services to Teaching Swimming (2001), and Northland Masters Sportswoman of the Year (1999).