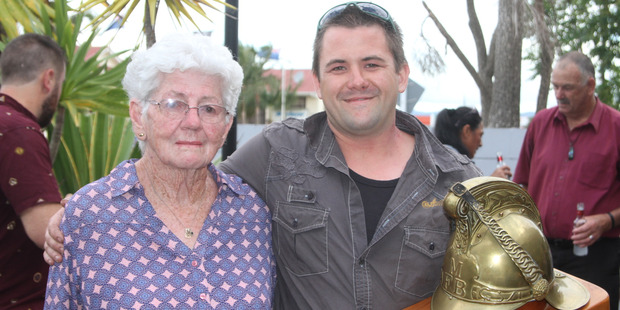 It was probably inevitable that Devin Jordan would join the Kaitaia Volunteer Fire Brigade.
His childhood memories include accompanying his father and grandfather, a one-time Chief Fire Officer in Auckland and Fire Service Commander, to the station bar on a Friday evening, where he would be plied with chips and Coke.
His grandfather was never a serving member of the Kaitaia brigade, but Devin signed on 10 years ago, and on Saturday night he was named Firefighter of the Year.
Deputy Chief Fire Officer Craig Rogers said the brigade's officers had found it difficult to choose from a number of very worthy candidates, but Senior Firefighter Jordan had contributed a great deal, including helping with the training of recruits and working on the appliances, which had not gone unnoticed.
Saturday night's function, which was officially the brigade's annual 'ladies' night,' where Chief Fire Officer Colin Kitchen thanked members' spouses and partners for their support over the year, also included a presentation to retiring member Dave (Squid) Mckenzie, who will be formally farewelled after 52 years' service early in the New Year.
It had been "a good 50 years," he said, during which the demands made of the brigade had changed beyond recognition.
In his first year crews responded to 47 calls - as of Saturday night the 2017 tally sat at 333, closing on the previous year's 344 - and he had had to be quick to find a place aboard an appliance.
The first time he hopped on he was told to get off - he was new, and would not be going.
When the crew returned he discovered that the member who had evicted him had only joined a week before he did.
Volunteer firefighting was very much a case of getting back what one put in, he added. He had been all over New Zealand to conferences and competitions, and had competed at Firefighters' Games in New Zealand, Perth, Las Vegas and Edmonton.
He was proud of the fact that he was the first member to have served 50 years solely with the Kaitaia brigade. And he was still getting phone calls from people whose smoke alarms were beeping in the night.
"I told the last one to ring the council," he said.
The evening was the last official function for Mr Kitchen as CFO, his tenure coming to an end at midnight on January 1. He will officially step down early in the New Year, when the new CFO and deputy will be named.