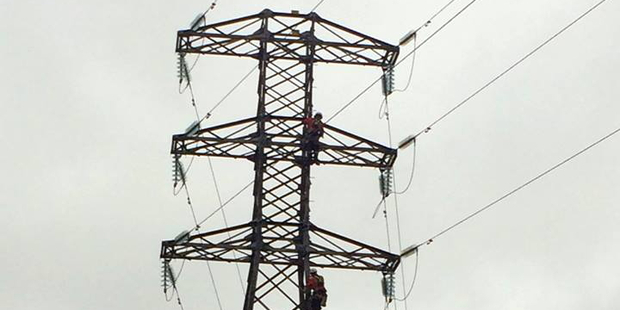 A Far North man who admitted causing a major power outage by shooting at power pylons has been jailed for just under two years.
A second man accused of taking part in the incident was sentenced last week to community work because police couldn't prove he shot at the insulators and caused the power cut. He was instead convicted of shooting at a sign.
About 3am on December 8 last year power was cut to 32,000 homes and businesses across the Far North. After a search hampered by bad weather, national grid operator Transpower traced the cause of the blackout to damaged insulators on three pylons in a forestry block near Matawaia. Bullet casings were found nearby.
Power was restored about 12 hours later.
The biggest financial loss was felt in the Bay of Islands where a 3000-passenger cruise ship was in port but many businesses couldn't open.
In January two Moerewa men - Nathan John Cooper, 46, and Korey Sesil Pirini, 28 - were arrested and charged with intentionally damaging power insulators and unlawful possession of firearms.
Cooper pleaded guilty and was earlier sentenced to 23 months' jail.
Pirini, who also faced charges of cultivating cannabis and dangerous driving, pleaded not guilty and had a judge-only trial in the Kaikohe District Court last Monday.
Police, however, couldn't prove he shot at the insulators and contributed to the blackout. He admitted shooting at a sign attached to the pylon and was sentenced on the amended charge, intentional damage to a sign, to 150 hours' community work.
Pirini was also disqualified from driving for six months on the driving charge.
During Cooper's sentencing on April 7, the court was told he was going hunting with a group of friends when they got a flat tyre in the middle of a forestry block. In the early hours of the following morning, using a shotgun and a .303 rifle, they shot at three pylons about 500m apart.
The cost of repairs was $41,000 but the total indirect cost to the Far North community, as estimated by Transpower, was $6-10 million.
Judge Greg Davis accepted that Cooper's remorse and shame were genuine, and took his early guilty plea into account when setting his sentence.
He warned Cooper to steer clear of firearms, and that he was not permitted to hunt because of previous offences and his lack of a firearms licence.
"You and they [firearms] should keep well apart," he said.
Judge Davis did not order the $41,000 reparation sought by Transpower because of Cooper's jail term and because it was unlikely he would be able to pay.