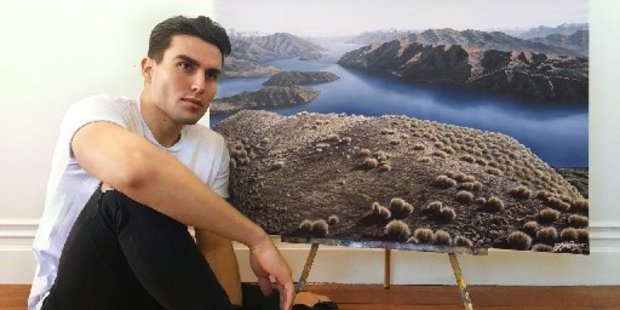 Kaitaia's Stefan Burrows has long been recognised as a talented artist, but his passion has taken second place to other commitments over the last four years.
He is currently living in Auckland, studying for a conjoint Master's degree in architecture and urban design, having graduated as a Bachelor of Architecture. But at 21, the urge to return to painting has proved irresistible.
Before moving to Auckland at 18 he had regularly painted on commission, but the hobby had gone on hold while he concentrated on his studies and other commitments including internships, work and modelling. He returns home to Kaitaia regularly, and was constantly being asked if he was still painting and/or accepting commissions.
"I'm always being told that I should pick it up again," Stefan said.
He had finally taken that advice a month ago, and had completed one work, sold to a buyer in Perth. He had found that his style had improved, which had rekindled his enthusiasm for accepting commissions again, and possibly creating a New Zealand-themed series of around 10 large pieces that he could exhibit.
"I have posted a couple of pictures of my latest piece of art on social media, and thankfully it has attracted some really kind feedback," Stefan said.
"With social media you can only get so far though, and I'm hoping to reach a wider audience. The Age would be an amazing platform to show my new piece to the northern public, and to a place I still call home."