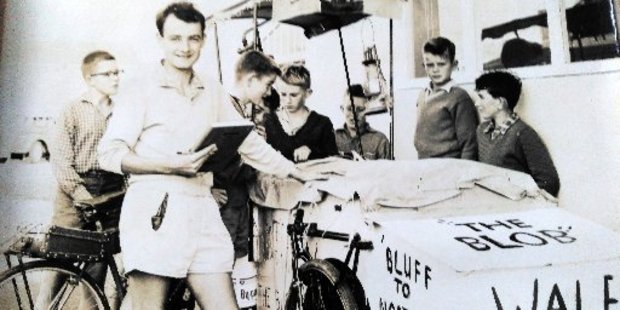 It was a young Graham Sweet who arrived in Kaitaia more than 50 years ago. He was on the final stages of his marathon from Bluff to Cape Reinga, pushing the cart he had named The Blob, built in Invercargill in 1962, every step of the way.
The now not so young Welshman will be back in Kaitaia tonight, to spend a few days refreshing his memories and perhaps meeting of some of those who gave him such a warm welcome 53 years ago.
His host, Claude Ilton, said he had phoned a number of people who had met Graham, but he was sure there would be others keen to meet him. Their best chance would be at the Waipapakauri Hotel on Saturday, from 2pm.
Claude would be happy to hear from anyone wanting to know more - phone (09) 406-8565 or (027) 479-1697.
Graham, who arrived at Cape Reinga 53 years ago today, should have fond memories of Kaitaia, the Northland Age reporting that he had stayed there longer than intended.
He had been the guest of mayor Lionel Thompson at a Rotary luncheon, stayed with Kaitaia Hospital nurse WR McLeod, and took several children for rides on his cart.
Charlie Hutley (Awanui) gave him a couple of spare bicycle wheels, and Frank Cade (who owned the Princess Theatre in Kaitaia) produced a lawnmower wheel for the undercarriage.