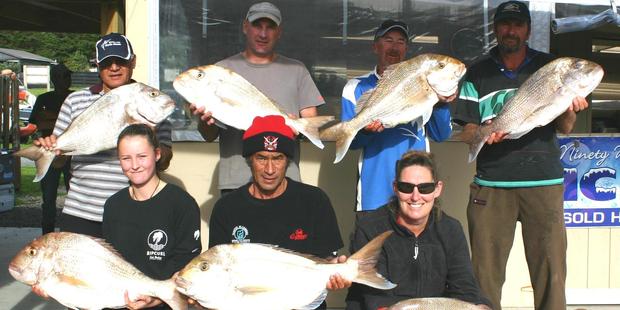 Fishing over a dropping high tide with weather and sea conditions in tune provided a rewarding bounty for the local and visiting anglers of 90 Mile Beach.
A report from 90 Mile Beach Surfcasting Club's field-day contest on Sunday, April 23, noted 34 club members and four visitors weighed in in 133 snapper, 10 kahawai and three trevally after fishing from 8am to 3pm over a 3.1m tide hight at 6.30am.
The heaviest snapper of the day and first prize went to Ben Waaka, no stranger to catching big snapper, with a 7.56kg fish, the second heaviest trevally prize was claimed by Ken Tyler with 3.68kg, while the third heaviest kahawai prize was claimed by James Parlour - a 'new' member albeit one returning to the fold after a long absence - with 1.88kg.
Others to make the day's prizelist were visitor Stevie Marie 7.55kg snapper (only 1 gram off the overall heaviest snapper) 4, Ursula Williams 2.64kg trevally 5, Milton Arnold 1.68kg kahawai 6, Jack Rogers 6.84kg snapper 7, Amber Rogers 1.43kg trevally 8, Steven Beckett 1.58kg kahawai 9, and Dan Lloyd 6.22kg snapper 10.
Elsewhere, the haggle (a 2.15kg kahawai) was won by Parlour with his 1.88kg fish, while outstanding anglers weighing in the maximum of 10 snapper, with exceptional weights all going towards the total points for the year: M Arnold 39.19kg, Dave Hallett 36.38kg, and Steve Maisey 28.76kg; nine snapper: Gareth McKenzie 36.04kg, eight snapper: D Lloyd 29.48kg.
Also unlucky was Yulette Sisson who reeled in a respectable 5.55kg snapper but still did not make the prize pool. The club's most recent event was held last Sunday, with results coming soon.