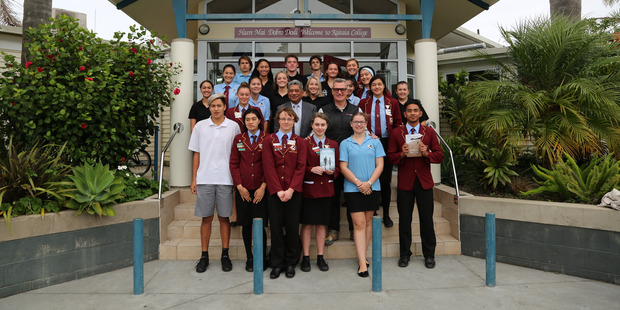 It was an absolute privilege to welcome Sir John Kirwan to Kaitaia College last week.
He was visiting in his role as a Westpac ambassador, spreading his message to help people understand more about mental illness and encourage them to talk about it.
The world-class winger is passionate about putting an end to youth suicide.
At Kaitaia College he opened up shared his personal story of depression, resilience and hope after struggling with the mental illness as a player.
"Youth in New Zealand have the highest suicide rates in the developed world, so it's not something we can't ignore. It's something I want to tackle head on and openly talk about, because you can get through it, and there's a lot of hope out there if you reach out and look for it," he said, quoting Martin Luther King Junior's 'I have a dream.'
He hopes that one day there will be an end to youth suicide in New Zealand.
Talita Klopper, who was in the audience, said Sir John had given a "shocking, eye-opening" first-hand view of what depression was like. Tahlia Betheras took away the important warning sign of looking for behavioural changes, and how to take action.
"JK told us the early warning signs to look out for in the people around us who may be suffering or developing depression," Manaaki Hoepo said.
Sir John put to rest the 'what have you got to be depressed about?' myth, while reminding his audience that depression was an illness, not a weakness. He reinforced that we can create our own definitions of success, love and happiness, play by our own rules instead of trying to fit into someone else's box, and build or rebuild our life around what we want to be important.
The resounding messages for the students were for them to look into themselves, to dream big, and have confidence in themselves. He asked them to try to do something that made them smile every day.
"Keep trying, give it everything and don't look back, and when you get to my age you can say 'I gave it my best shot.' I would rather try and fail than spend my life wondering, what if?"
Sir John's work in the mental health area had gone a long way to removing the stigma that surrounds depression, as the first rugby player to openly talk about depression.
He encouraged students to assist friends in seeking help.