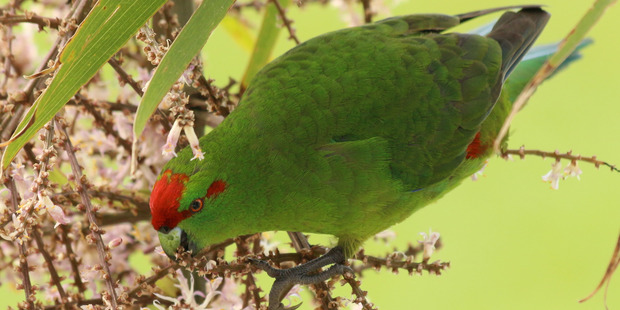 A brightly coloured native parakeet could be back in the Bay of Islands this winter after an absence of more than 30 years.
The once common kakariki, or red-crowned parakeet, was driven to extinction in mainland Northland by rats, stoats, weasels, feral cats and possums by the mid-1980s.

They are still seen occasionally as they fly over from pest-free islands such as the Poor Knights and the Hen and Chickens, but none have been recorded nesting on the mainland in more than 30 years.
This winter, however, Project Island Song - a community-driven project to restore native wildlife in the Ipipiri islands of the eastern Bay of Islands - hopes to bring the colourful bird back.
Project co-ordinator Richard Robbins said bringing back the kakariki was the most exciting and ambitious native species reintroduction since the restoration programme began in 2009.
It was also riskier because there was no guarantee the birds would stay put on the islands where they were safe from pests - but that had advantages too because it meant people living on the mainland Bay of Islands were likely to see the bright-green and red birds flying around. Other birds reintroduced to the islands, such as the toutouwai (North Island robin) and the tieke (saddleback) won't fly over a large expanse of water.
Mr Robbins said public help was needed to make the kakariki's return a success. People could donate to a givealittle campaign to raise the money required, or they could help make the environment safe for their return by carrying out pest control around their homes.
Forest and Bird's Northland conservation advocate, Dean Baigent-Mercer, said kakariki made their nests in holes in trees which could be quite close to the ground, making then vulnerable to pests.
"Two to nine eggs are laid and a pair of kakariki can have several nests over a summer. This means their numbers could breed up quickly if we all work to keep pest numbers as low as possible," he said.
If all goes to plan 40 kakariki will be caught and translocated from Hauturu (Little Barrier Island) to Moturua Island next month. Another 40 birds could be translocated in 2018 or 2019 depending on the outcome of the first release.
Project Island Song is a partnership between community group Guardians of the Bay of Islands, Te Rawhiti hapu Ngati Kuta and Patukeha and the Department of Conservation.
■ Go to givealittle.co.nz/cause/bring-back-kakariki to donate. As of yesterday $1600 of the required $38,000 had been raised.