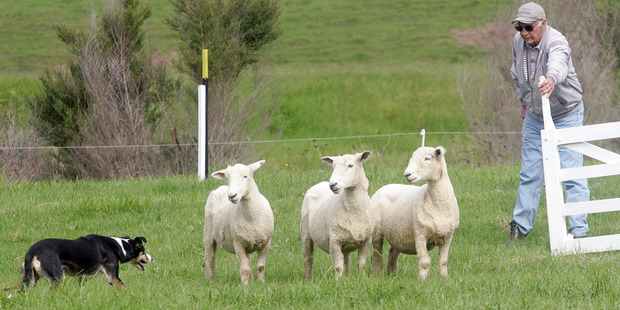 NORTHLAND CHAMPS.
The Northland championships were decided in Waiotehue Valley in Broadwood earlier this month.
True to form, longstanding performer Murray Child (from Maungakaramea) claimed the short head and yard and zig zag hunt title with Dice and Frank respectively, while Scott McRae and Cory (Wellsford) took out the long head and Graeme Smith and Henry (Maungakahia) won the straight hunt.
Child and Frank put in their normal honest hunt to earn a 93-point run on the big hill, easily holding off Grant West's Swagger with 88 to claim the zig zag title. In the straight hunt, Henry comfortably held off the challenge from Grant West and Swagger through a high-scoring 96-point run.
On the long head, McRae's Cory locked in two consistent runs - in the first round and the ensuing runoff - which totalled high enough to keep first-round winner Andy Ross with Pip in second. In the short head and yard, McRae's Cory was eventually forced to bow to Child's national champion bitch, Dice.
The centre champs were held on the Sunday, at the conclusion of the Broadwood Sheep Dog Trials on Friday and Saturday.
BROADWOOD TRIAL.
As predicted, the Broadwood Sheep Dog Trial - the eighth leg of nine on this year's Northland Centre circuit - turned on a great two days of quality performances on Friday to Saturday, April 7-8.
In his report, local commentator Merv Cameron noted the standard of work of the top dogs was high with plenty of individual standout performances on display.
Andy Ross with Pip (Tangiteroria) finished top in the long head and placed in the yarding as well, with Ross also winning the straight hunt with Queen; the aforementioned Scott McRae with Cory continued their impressive progress this year by winning the short head and yard and placing third in the long head; while Duncan Gilligan and Dog (Kaiwaka) claimed the zig zag title.
Cameron noted the very undulating ground on both heading courses made it easy for dogs to lose contact when pulling the sheep off the hill: "The runout on the long head looks easy but trapped the many dogs who came in far too soon. Judge Leo Jecentho would have worn his pencil out in deducting points for this serious fault.
"The trickiest part of the short head was ... in making contact with the sheep the dog needed to be very alert and able to cover both left and right very quickly, failure to do so meant a break to the right and many points off."
COMING UP.
Double-header this week with the Molesworth and Maungakaramea events making for four days of trialling from Thursday to Sunday. The season will concluded with rearranged Mangonui trials at Rangiputa from April 28-29 to wrap up the centre circuit and provide a last chance to qualify for the nationals. A report from the trial at the Easter Show at the ASB Showgroundslast weekend is also forthcoming