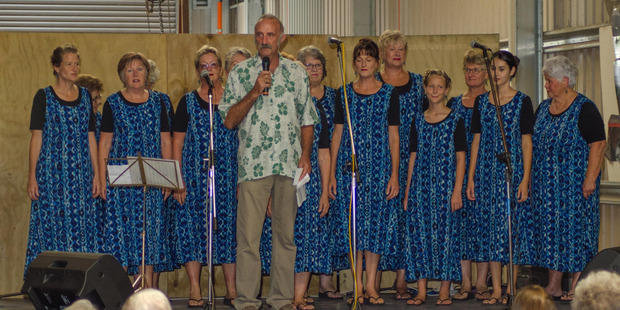 "What a fantastic concert!"
That, concert chairman Frank Leadley said, was the reaction of all who attended this year's Concert at the Station, in the Bay of Islands Vintage Railways' carriage shed in Kawakawa.
"Right from the opening number, when Bella a Capella demonstrated why they are two-times national champions in women's barbershop, followed by the thrilling voice of young Ellen Callister, who demonstrated so brilliantly why she holds a Bachelor of Music in Classical Voice, is a member of the noted Viva Voce choir in Auckland and a talented flute player, the audience was captivated," he said.
"In complete contrast, 28-year-old Shavonne ramped up the pace with her traditional country music and had the feet of the 180-strong crowd tapping as she demonstrated why she is ranked No 1 out of 200 entries in the international mainstream country airplay chart.
"Then the mood changed again with the highly entertaining Tambo band, their joy of music shining through in high octave arrangements, which again had the crowd clapping and demanding more. Their fusion of Latin fusion and jazz/blues was highly entertaining."
Not to be outdone, Kerikeri High School Year 13 student Zoe King delighted the crowd with her uninhibited, totally natural approach to her music, before the audience welcomed back hardy station concert perennials Annette and Kim, he said.
"It was very obvious why they were inducted into America's Traditional Country Music Hall of Fame, and also won the International Classic Country Music Album of the Year 2013.
"They rounded off the concert in magnificent style," Mr Leadley added.
"'Where else could you get such a fantastic programme of great music for just $10?' was one overheard comment, which was reiterated in many forms by the 180-strong audience.
"We were delighted with the programme, the crowd, and mayor John Carter as our exuberant MC," he added.
"The ambience in the carriage shed and the huge downpour just as the concert was finishing showed why we will hold the concert in the shed every year now rather than outside.
"The general feeling was that this was the best concert yet, but just wait until next year, as we intend to keep building and profiling the huge range of talent we have in the North."