"We need more police like Rowena. Actually we need more people like Rowena."
So said the judges of the 2016 Health and Social Innovation Awards, presented at a function in Whangarei last week, where Senior Constable Rowena Jones received the award for the best contribution to social good by an individual.
She also accepted the award for the best innovation for social outcomes, won by the Far North Safer Community Council for its Building Safer Communities (formerly Total Security Management) crime prevention project.
The judges of the individual award noted her leadership and dedication, describing her contribution to social good as "nothing short of outstanding".
The award recognised her extensive work with young people, including via Blue Light, and her role as board chairwoman with the Far North Safer Community Council.
Meanwhile, the judges commended Building Safer Communities' innovative "teaming of resources", its highly professional management and good oversight by the trustees, and its "unlimited potential in upscaling and sharing in other locations".
They noted the crime prevention project took a three-pillared approach - establishing a comprehensive CCTV system within Kaitaia, particularly focusing on high-risk locations; developing camera monitoring capability, especially when there was no 'capable guardianship' within the town; and developing the ability to deploy to undesirable activity to prevent offending.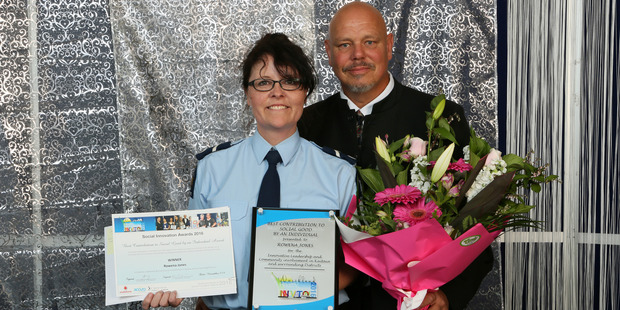 All that, the judges added, had been achieved by creating a model that was self-sustaining and not reliant on external funding.
The programme scored its most spectacular success so far last month, when two suspicious people were tracked through the town by CCTV camera, a patrol arriving at their destination, the Mobil service station, before they did, preventing what police had no doubt was an intended armed robbery.
The two men were again tracked by camera as they walked north. Police arrested one man a short time later.