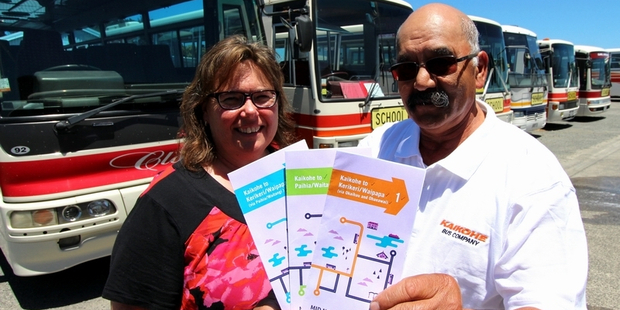 Three new bus routes servicing the Mid North, primarily aimed at horticultural and tourism workers and shoppers, will be officially launched on a trial basis in Kaikohe on Thursday.
The Kaikohe Bus Company will operate the Mid North Link service, with the Northland Regional Council funding the $280,000 trial.
Council chairman Bill Shepherd said the future of the service would very much depend on the level of support it receives.
Depending on patronage, he hoped the trial would run for up to two years over three routes.
Two of the routes will be served seven days a week, primarily for those employed in the Mid North's horticulture industry or the Bay of Island tourism sector.
The third route, which will operate on Tuesdays and Thursdays, is designed to give passengers access to medical appointments, banking services and shopping.
Cr Shepherd said the trial was an important regional transport initiative that his council was thrilled to be able to support, and a small event was being organised to mark the official launch.
Passengers would be ferried in newly-purchased 12-seater vans, with fares ranging from $3 to $8.50 one way.
Ten-trip concession tickets would be available for regular commuters (tickets could be bought from the driver), while all three services would connect with some inter-regional services, like InterCity and ManaBus.
Cr Shepherd emphasised that 'trial' was the key word, and public support would be vital to the services' future.
The three routes are:
* Northern Workers - departs Kaikohe at 6.35am, travelling to Okaihau, Ohaeawai, Pakaraka, Kerikeri and Waipapa, with the return trip leaving Waipapa at 5.15pm.
* Southern Workers - departs Kaikohe at 7.35am, travelling to Ohaeawai, Pakaraka, Moerewa, Kawakawa, Paihia and Waitangi, and the return trip leaving Waitangi at 5.15pm.
* Southern Shoppers - leaving from Kaikohe at 10am on Tuesdays and Thursdays, following the Southern Workers route to Waitangi, arriving about 11am, continuing on to Kerikeri and Waipapa and leaving Waipapa at 2pm for the return trip. The first two routes will operate seven days a week, including public holidays, except for Christmas Day and Good Friday. The third route will not operate on public holidays.