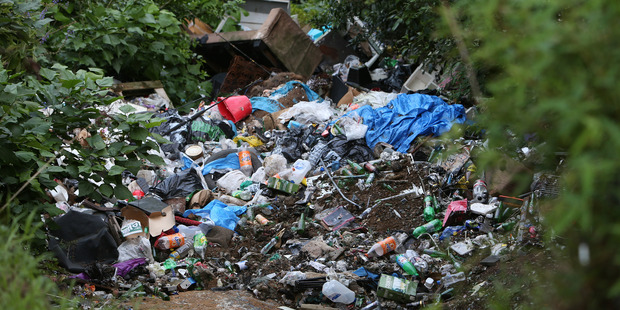 The clean-up of a massive illegal dump which has been sitting in Northland native bush since the start of the year is about to begin.
The long delay has been put down to health and safety concerns at the steep site.
The FNDC said that come Monday, contractors would start the $14,000 job of removing a 200m-long pile of rubbish, about 20km from Russell, and the largest of a number of "fly-tipping" sites in Ngaiotonga Scenic Reserve.
The dump - which contained burnt out cars, appliances, plastic and household rubbish - was reported to the council in January by a horrified tourist who described it as "at least the size of two netball courts".
It was at the bottom of a steep drop off the side of the road, about halfway along the stretch of Russell Rd which ran through Ngaiotonga.
An FNDC spokesman said health and safety concerns had slowed the clean-up.
"Because of the very steep terrain council has searched for some months for an appropriate removal method. We have also needed a window of dry weather," the spokesman said.
He said the technique to be trialled next week would be familiar to those in the forestry industry and was normally used to winch logs from steep ravines.
"In this case contractors will be hauling out large sacks of rubbish and other large items.
This will require specialised machinery, as well as specialised knowledge to achieve the task safely," the spokesman said.
Contractors would also wear sharp-proof clothing, including protective leggings, boots and gloves.
"There is no way to know what may be in the rubbish, so staff need to be protected against accidental injuries from used needles or other sharp objects," he said.
"If this trial proves the technique to be cost-effective, it could be used on other similarly remote and steep illegal dumps."
Nearby farmer Sean Walker had been lobbying the council over the dump and said he was pleased to hear work was getting underway.
The council had done some investigation of the dump, which had resulted in six people being fined $100 each, due to evidence found in the trash which linked them to it.
One infringement had been paid, the other five were sent to the Ministry of Justice in May.
To date, no payment has been made.