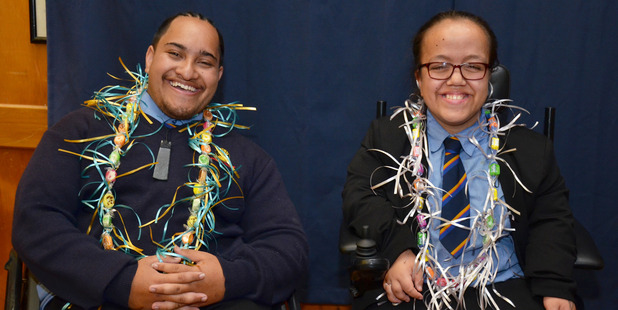 Northland College may have made history among mainstream New Zealand schools by choosing two students who both use wheelchairs as head prefects.
The head boy and girl named a week ago at the Kaikohe secondary school's prizegiving are Te Kopa Kopa and Aroha Lawrence.
Both students have played a vital role in the school's culture and achievements, and have shone for their support of other students, principal Jim Luders said. Both were prefects this year, too.
Te Kopa and Aroha, who are second cousins, were born with physical disabilities; Te Kopa due to spina bifida and Aroha has achondroplasia with associated spinal and other health issues.
They are bi-lingual in te reo Maori and English, have represented their school in secondary school speech competitions, are described by teachers and peers as "gifted orators" and are on the school's student leadership team.
Te Kopa is in the school's Te Ara Whaanui Kapa Haka Group and has also represented Northland and New Zealand in the under-23 wheelchair basketball team for the past two years.
When he was first chosen for the team, he was only 15 years old - the youngest ever player to make that grade.
The announcement of their new roles at prizegiving was followed by a roar of approval from the auditorium, a "storming of the stage" and a haka by fellow students.
"We knew the roof would come off. It was an overwhelmingly, outstandingly popular choice," Mr Luders said.
Te Kopa and Aroha were both "natural born leaders", he said.
He believed this is a first time in New Zealand, and maybe the world, that two wheelchair bound students have been appointed together for this type of role.

The deputy head girl and boy, Phoenix Witehira and Natasha Williams, were also outstanding students, he said.
Pheonix and Natasha might be called on more often than deputies usually are.
"All senior leaders carry quite a heavy load and everyone understands that Te Kopu's and Aroha's load is made even heavier by being physically disabled."
On the night, Aroha said that she was honoured to get the position and she was proud of her cousin, Te Kopa, as well.
Te Kopa thanked his family and everyone else who encouraged him to go for the top position.
He also thanked his cousin Aroha, Jim Luders, the teachers and everyone else who made him "reach for the sky".
Northland College chooses its head boys and girls by vote, with students putting their names forward and then the teachers and other students voting in separate ballots.
Among students recognised at the prizegiving for their achievements was Courtney Sanson, Northland College Dux, 2016.