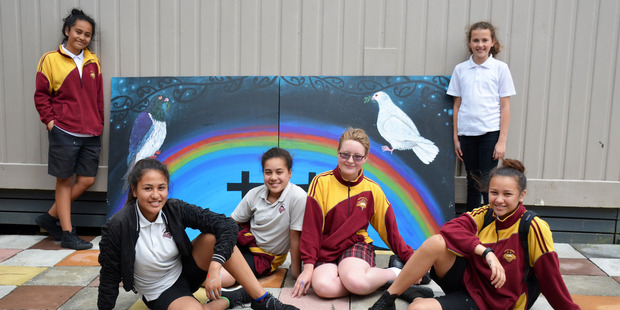 In 2010 Te Kiko Trust published its first book on Maori role models.
It was distributed to schools and libraries around the country, and, given its success, it was followed by a second instalment in 2012.
The response from young people, parents and teachers prompted the decision to take the role models off the printed page and take them into schools - and Maori Role Models on Tour was born.
"At the beginning of 2013 we did a pilot of Maori Role Models on Tour with Māori Television presenter, singer and song-writer Te Hāmua Nikora at six high schools across the Manawatu and Whanganui regions," Te Aorangi Harrinton said.
"This pilot was a huge success, and we were quickly inundated with requests from schools to take it to them."
Two more tours followed in 2014 and 2015, and late last year Te Kiko Trust relocated from the Manawatu to the Far North, quickly partnering with prominent artist Theresa Reihana, with the aim of inspiring young Northlanders by conducting art workshops.
The venues included Kaikohe East and West primary schools, Tautoro Primary, Kaikohe Christian School, Te Kura Kaupapa Maori o Taumarere, Te Kura Kaupapa Maori o Whangaroa and Karetu Primary.
At Kaikohe Christian School six Year 7-8 students were chosen to work alongside Theresa to create a work reflecting the school's inspiration and values.
"For a few of the girls it was their first time painting, but they all shared something in common - they all had a passion for art," Te Aorangi said.
"Theresa taught them a number of life-long painting techniques, and many of the girls said they were proud of what they had painted. Many of the teachers and students were too."