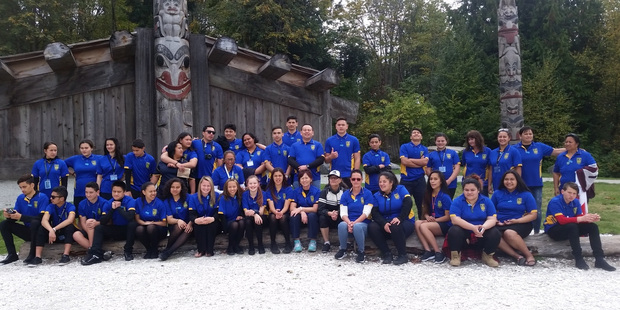 Students from Bay of Islands College's bilingual unit have a greater understanding of te reo's place in the world after a visit to First Nations people in USA and Canada.
The unit, Reo Rua, performed kapa haka and took part in other cultural events hosted by the Musqueam Nation in Vancouver, the Squamish Nation in Whistler, Lil'Wat Nation in Pemberton, north of Vancouver, and the Stanamus Nation on Vancouver Island.
The 43-strong party of 28 students and 15 adults returned from the 12-day trip earlier this month.
The purpose was to provide the students with interactive experiences with the First Nation peoples, school principal John Paitai said.
"Students shared in their customs, they learnt a little of their language, they listened to their legends and engaged in discussions about important issues for them. Of particular interest was the preservation, the maintenance and the sustainability of their culture and their language for future generations."
The students' kapa haka performances were well received.
"The highlight occurred on board the cruise ship, the Norwegian Jewel, that our group had joined for a five-day cruise from Vancouver to Los Angeles. The spontaneous standing ovation and the accolades that flowed from the audience in a filled to capacity theatre would be a memory that our performers would cherish forever."
At a performance in Disneyland the group used kapa haka to tell a humorous story of a Maori avatar who goes on a quest of self-discovery.
The story was written by teachers Jasmine Maunsell and Dion Prime and choreographed to music by Jasmine and her sister Tere Maunsell.
The narration was in English, with the group performing in Te Reo, displaying arts skills of wero, karanga, whaikorero, waiata, poi and haka. Mr Paitai said parents and other adults on the tour were unanimous in their praise of the students' conduct.
"Outstanding ambassadors for our country, our school, their whanau and, most of all, themselves."
The group met up with ex-Bay of Islands College student, actress Rena Owen in Vancouver and the college's first head boy, Kerry Davis and his wife Ruth at Ladysmith School on Vancouver Island.
Each student had to raise $3000 for the trip through individual, community and school fundraisers. Every two years the Reo Rua unit travels, usually somewhere with an indigenous people's theme.