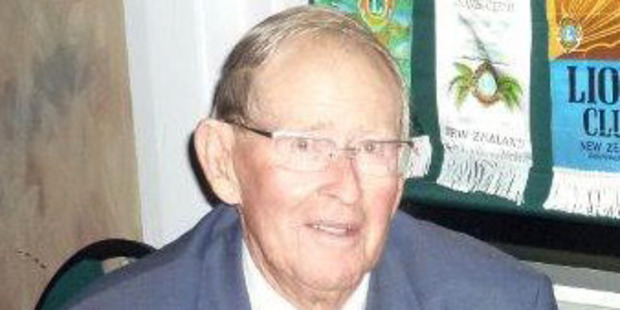 The problem with old Lions is the massive void they leave when they've gone.
So said the tribute paid to veteran Brian Hall, who spent 47 years "burning sausages to make our Far North community a better place," for a Lions convention remembrance service.
Brian, who died on August 29, aged 86, was described as a huge inspiration, "especially to young cubs feeling their way into the Lions Club family".
His was a cheerful, welcoming presence, a man who didn't have to say much because he preferred to lead by example.
He was married to his equally diminutive sweetheart Melva for 62 years, and together they raised two sons and a daughter.
He owned and operated a general carrying business in Kaitaia before moving into the concrete industry, but he also had another family, and that was Lions.
Brian joined the Kaitaia club in 1969 and was elected president in 1975. Just two years later he was elected deputy governor of his district, going on to serve three terms as zone chairman and two as regional chairman, attending world conventions in Hawaii and Montreal.
He also racked up 29 district and multi-district conventions, and 26 district cabinet meetings.
In 1992 the couple moved to a new home in Cooper's Beach, and Brian transferred his membership to the Mangonui Lions, where he served as president in 1994 and again in 2006.
He took particular interest in the annual combined Far North Lions fishing competition at Doubtless Bay, volunteering his time to a very busy and demanding event for an unbroken 17 years.
"Somehow he also managed to fit in a five-year presidency of the Cooper's Beach Bowling Club," the tribute said.
"A huge number of hours were clocked up on Lions barbecue duties, because Brian was never happier than when wearing an apron and swapping tales with his fellow fundraisers.
"He was always up for any project that would benefit his community, and a great champion of the ideals of the Lions movement.
"As befits an alpha Lion, Brian was a fanatical hunter-gatherer, knocking off deer, pigs, fish, waterfowl and pheasants all over New Zealand.
"They'll be a bit safer now. And we are less for his passing."
Ill health forced Brian and Melva to sell their home earlier this year, and they moved to the Jane Mander Retirement Village in Kamo to be closer to their daughter Coral.