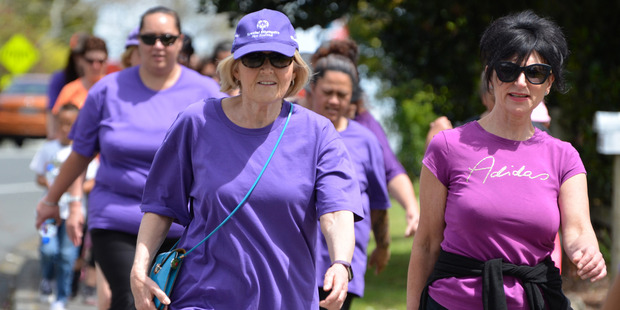 Participants in a series of seven marathons in seven days concede that walking won't end the scourge of sexual violence, but say it's another step in getting people to speak out.
Fifty people walked around Kaikohe on Sunday in support of Te Tai Tokerau MP Kelvin Davis' bid to walk seven marathons in seven days, a gruelling 294km follow-up to his Auckland-Cape Reinga hikoi last year.
While Mr Davis was pounding the road between Kaitaia and Awanui, and encouraging Northlanders to speak out, the Kaikohe group walked from Broadway to Reservoir Road, Northland College and Orrs Road, an effort they plan to repeat every day until (and including) Saturday.
Kaikohe organiser Mike Shaw said sexual abuse was a big issue, and it was easy for individuals to feel overwhelmed or that they were powerless to stop it.
However, if people worked together they could make a difference. He accepted that the hikoi wouldn't change things on its own, but it would help raise awareness.
"Walking around town is the easy part, the hard part starts later," he said.
"This creates the opportunity for conversations to begin and gives people confidence to speak out. We had a number of disclosures about abuse to an 0800 number we set up for the last event because young people felt confident enough to say what had been going on.
"We're sending a signal that things must change. Half the battle is getting it out of the dark into the light so it can be addressed."
Mr Shaw said he was pleased with Sunday's turnout, especially given that people had plenty of other commitments over Labour Weekend.
Among those taking part on Sunday was Okaihau anti-violence campaigner Karen Edwards, whose daughter Ashlee was killed by her partner in Whangarei four years ago.
She joined Mr Davis' hikoi last year when it passed Okaihau, and was planning to join him in Kaitaia on Monday.
"People will wonder what we're doing, they'll ask questions and it will get them talking. They might be affected themselves or know someone who is.
They need to know they have a right to speak out and the perpetrators need to stop," she said.
She hoped the hikoi would encourage people, children especially, to speak out about abuse.
Also taking part in Seven7 events with Mr Davis this week are Ngati Whatua, Men Against Sexual Violence (Massive) and advocacy group Korowai Tumanako.
Another hikoi left Orakei Marae on Sunday and is due to arrive in the Far North tomorrow.