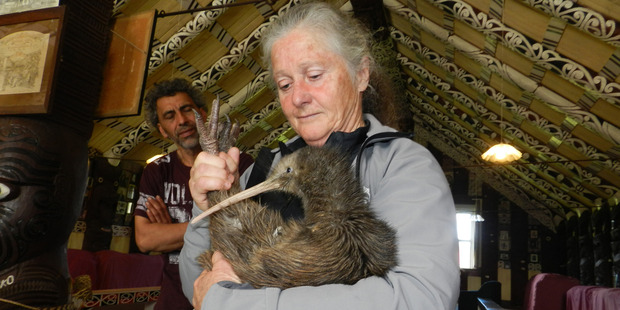 Round-the-clock rehabilitation has enabled a kiwi that suffered life-threatening injuries when she was caught in a leg-hold possum trap to be returned to her maunga at Mangamuka.
Local hapu, Kiwis for Kiwi and the Department of Conservation gathered at Mangamuka Marae to celebrate the release of the adult female, named Owhata, back to the wild.
Kaumatua Cyril Chapman said 25 locals, young and old, attended the release ceremony.
"It was really important for us as tangata whenua and ahi-kā to reaffirm our roles and responsibilities as a community to support the kaupapa of conservation, to support our ancient bird the kiwi, and to ensure that she's safe back in the environment she came from," he said.
A Top Energy worker had found Owhata in the trap, and was credited with saving her life by rushing her to Kaitaia vet Lesley Baigent for treatment. Ms Baigent said the bird was lucky to survive.
"She was in a very bad state. She was dehydrated, her foot was cold and she was quiet, which is a bad sign, because female kiwis are usually very stroppy," she said, adding that most kiwi caught in leg-hold traps died as a result of the damage done to their vascular and neurological systems. Hours after Owhata's rescue a young male kiwi was found in another leg-hold trap nearby.
He was flown to Massey University's Wildbase Hospital, but he was too badly injured to be saved, and was euthanased.
Owhata responded to treatment, however, and, once stabilised, was sent to Kiwis for Kiwi advocate Wendy Sporle, who runs a specialist kiwi treatment facility from her Kaitaia home, for rehabilitation.
Ms Sporle, who has been caring for kiwi on a voluntary basis for 30 years, said injured birds needed round-the-clock attention.
They were voracious eaters, and Owhata's diet of worms had to be supplemented with ox heart chopped into thin slivers to look like worms.
"She initially rejected the ox heart, so I had to force feed her three times a day, and sometimes in the middle of the night," she said.
"Kiwi are hard to handle, especially when they are injured, and she made an unusual growling sound. Each feeding session took around 90 minutes, and was stressful for both of us."
Owhata's intensive 12-day rehabilitation took a lot of time, energy and emotion, she said, but seeing her returned to her natural habitat made all of the effort worthwhile.
"I really care about kiwi, and acknowledge just how special they are. It's vital that we all learn how to better protect them from both dogs and traps," she said.
DOC Kaitaia operations manager David Neho said the young man who set the trap that caught Owhata had been found.
"He is devastated, so hopefully positive lessons can be learnt from a bad situation. People need to be aware that kiwi can be living anywhere, and that leg-hold traps must never be placed on the ground. To keep kiwi safe, traps should always be raised at least 70cm off the ground."