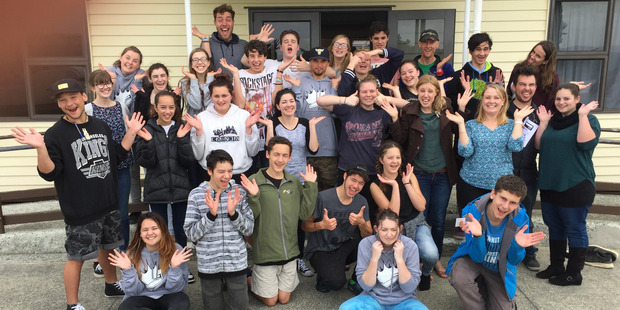 Teenagers from Doubtless Bay, Kaitaia, Totara North, Kaikohe, Whangarei and Kerikeri converged on the Cooper's Beach Christian Camp last month for an Alive leadership weekend.
Aimed at young leaders aged 13 to 24, most of the participants were 14 to 18, guests including Alicia Kant, from Christian Camping New Zealand, with Chris Mitchell (Australia) and Alice Adams (Taupo) leading the teaching.
"They spoke on leadership in a fun, interactive and fun way, including story-telling, illustrations and games. We looked at areas like potential and forgiveness," Doubtless Bay Community Support Trust youth and community worker Karen McAllister said.
In their free time the teenagers used the waterslide, played slippery hockey, went kayaking, walked the beach and used the camp's confidence course. On the Saturday night they were taken to the Doubtless Bay Christian Centre for a bonfire, to toast marshmallows and "hang out" together.
"By the end of the camp we as leaders had a real sense from the teens that they wanted to be the change in their communities," Ms McAllister said.
"One girl said she believes Kaitaia is not going to be known as the murder capital any more, and she wants to help make a difference. On the last day we felt that the teens were almost 'commissioned' back to their communities to be a positive influence on their peers."
A number of the young people had met over the recent school holidays to build their positive relationships and interaction.
Feedback included: 'I want to be the person who makes a difference in my community,' others saying the camp had boosted their confidence in public speaking and meeting new people, some saying they were beginning to understand their own potential.
'I was able let go of the things that held me back so I can move forward,' one said.
"We have seen real growth in the teens who attended," Ms McAllister added.
"They are really beginning to embrace who they are, step up in leadership roles and encourage positive and healthy relationships with their peers. Roll on next year."