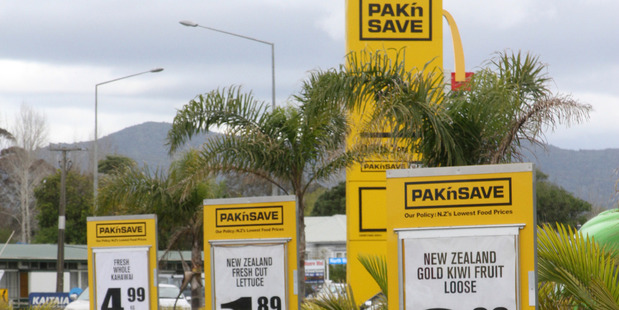 Pak'nSave has issued an "unreserved" apology for mispricing products at its Kaitaia supermarket, after a customer revealed that staff began advertising specials before the lower prices took effect.
Doug Cochrane, a spokesman for Pak'nSave owner Foodstuffs, confirmed staff in Kaitaia had been changing price labels while the supermarket was still open on Sunday, before specials took effect the next day. This meant some prices were incorrect, and customers were overcharged.
"Changing tickets prior to the start of a promotional cycle is not acceptable and is not consistent with pricing integrity policies," Mr Cochrane said.
"I would like to apologise unreservedly to our customers in Kaitaia, who, while they were charged the correct price, may have been misled by incorrect shelf pricing."
Customers who believed they had been overcharged could be entitled to a refund, if they had their receipt.
"Our suggestion to any customer who has concerns is that they bring their receipt into the store, and in the event of an error we will of course provide a refund," he said.
Those without a receipt could still speak to staff, who would try to resolve their query.
Mr Cochrane said store processes had been changed, and the error would not occur again. Inquiries were trying to determine whether the same mistake had been made elsewhere, but feedback suggested that supermarkets elsewhere were following the right processes and protocols.
Pak'nSave Kaitaia's pricing polices initially came under public scrutiny when a Doubtless Bay man reported he was routinely being overcharged. His complaint was rejected by owner/operator Maurice Te Brake, but attracted significant support on social media.
Ann Tauroa videoed herself over five minutes as she selected a two-litre tub of icecream, priced at $3.74 (on the freezer door). Three times she took tubs to the self-checkout, and each time the price was displayed as $4.99.
She said on the video that she would keep buying icecream until she got it for the "right" price, adding that she was sick of "poor advertising".
A person who is glimpsed briefly, and appears to be a member of Pak'nSave staff, tells her on the video that he had been instructed to change the price at 6pm on Sunday, although that price would not take effect until the next day or later.
As of yesterday the video had attracted 72,000 views and 1900 comments, and had been shared 1321 times.