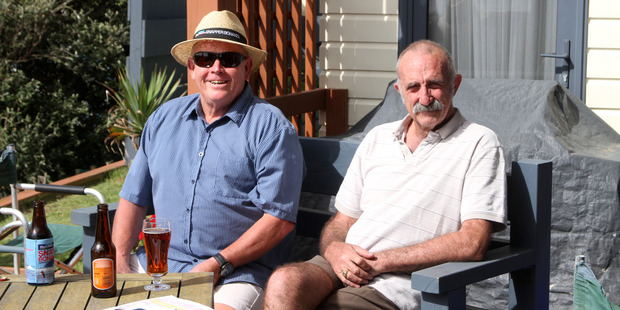 John Carter won a second term as Far North Mayor on Saturday, easily beating sole challenger Peter Gill.
Provisional results gave Mr Carter 10,889 votes to Mr Gill's 4485. That was more votes than he received in 2013, in a field of seven candidates, and a greater share of the total vote, although his 2013 majority was trimmed from 6736 to 6404.
Mr Carter said the result was very pleasing, but clearly there was some anxiety in the community.
"I've heard that message loud and clear," he said on Saturday afternoon.
"We now have to look at these results, analyse them and understand what they mean. The council's service levels still need a hell of a lot of improvement, and that's what we will be looking at. My message to the council next week will be that small things matter.
"I don't think the council communicates well enough with the community, and we will be looking at that too," he added.
Mr Gill was philosophical.
"The people have spoken. Well, around 40 per cent of them anyway," he said.
"The majority say they are happy with the council leadership as it stands. I accept that.
There's nothing more to say other than for me to wish John the very best."
Two new councillors were elected, Dave Hookway filling the Whangaroa-Bay of Islands vacancy created by Di Maxwell's retirement, and Te Hiku's David Collard losing his seat to newcomer Felicity Foy.
"That's democracy in action," Mr Collard said, adding that it was a bit soon to say if he would stand again in the future.
"Today I would probably say no. In 12 months' time I'll probably say yes," he said.
It had taken him two years to fully come to grips with the role, and he felt he had learned too much not to use that knowledge. That was the real disappointment.
By Sunday morning he had already had a job offer, but for the moment he and wife Lee were focusing on a trip to the US, to spend time with children and grandchildren, and to see the All Blacks play Ireland in Chicago.
Meanwhile four Northland Regional councillors lost their seats, including the 'Far North front row' of Dover Samuels, Joe Carr and Monty Knight.
Mr Carr said his major emotion was a sense of relief. He had served two terms on the Far North District Council then three on the regional council, and would now be able to devote what his children called his work addiction to his farm.
He would love to go and see his daughter in London, and might even find the time to use the yacht he had helped "do up" eight years ago but had only been out on once.
Mr Knight said all three Far North councillors losing their seats was a "real shame," as together they had been having a positive impact.
He would miss the work and the comradeship of his fellow councillors, he added, but would not miss the driving between his home and Whangarei.