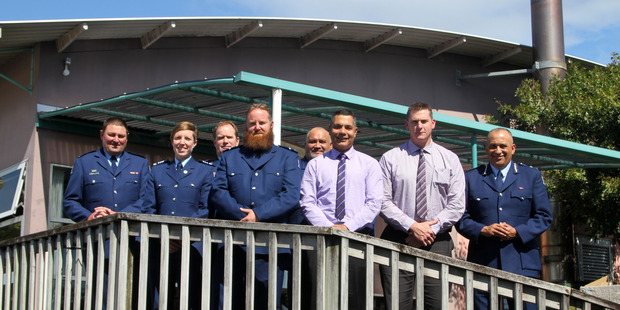 Detective Sergeant Mark Dalzell had not expected to stay in the Far North for more than a year or two when he transferred from Newmarket, but 21 years later he has no plans to move on.
"The fishing's still good and I enjoy working in a rural environment," he said last week after receiving his 28-year long service and good conduct medal.
"I'm happy to come to work every morning, and I have good people to work with," he added.
Detective Senior Sergeant Rhys Johnston said Detective Sergeant Dalzell was dedicated to Kaitaia and the Far North.
"He is the first person I would ask to do something, and I know he would do it thoroughly and professionally. His attention to detail is extraordinary. He is an excellent investigator."
Two others received long service and good conduct medals at the Kaitaia police station on Wednesday, with Detective Patrick Derbyshire (Kerikeri) serving 21 years and Senior Constable Dion Masters (Kaitaia) 14.
Mr Johnston described Detective Derbyshire, who transferred north from the Central District, as an "awesome" addition to the force in Kerikeri, acknowledging his technical skills and his ability as an investigator.
Senior Sergeant Geoff Ryan, O/C in Kaitaia, described Senior Constable Masters, locally born and bred,) as 100 per cent reliable, and always willing to step in to fill any gaps in staffing.
"People like Dion are gold," he said.
The medal recipients, and their colleagues, also received high praise from Deputy Commissioner Viv Rickard, who acknowledged that they had had a very busy year.
He also acknowledged the results they had achieved in a number of major investigations, which had been completed alongside the demands of "normal" policing.
"Standing together and working with the community, as you do, is a great way of honouring our purpose," he said.
"Kaitaia has challenges, but look at what is happening around New Zealand. Kaitaia is a fantastic place. There are good people in Kaitaia and the Far North, decent people who are just trying to make a living.
"I am proud of what you do and the effort you put in," he said.
District Commander Superintendent Russell le Prou also acknowledged the families who supported their police husbands, wives and parents.
"It is you who help you stay sane and allow you to do the stuff you do," he said. "They are an important part of our police whanau and family."
He too referred to the huge workload that Kaitaia staff had endured this year, saying he was looking forward to returning to "some sort of normality, whatever that looks like".
A medal was presented to Sergeant Courtney Sandilands, who transferred to Kaitaia from Kawakawa earlier this year, recognising secondment to Brisbane for the 2014 G20 summit.