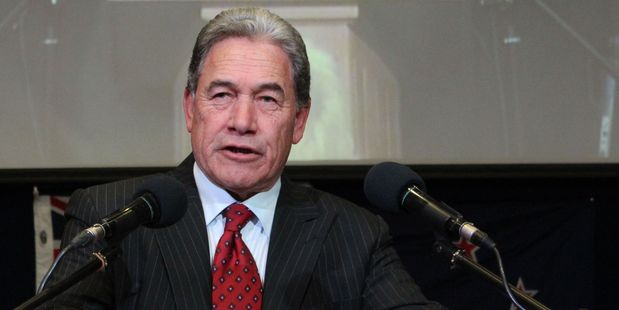 Until a long-running dispute was resolved, passing the Ngatikahu ki Whangaroa Claims Settlement Bill would be a serious mistake according to New Zealand First leader and Northland MP Winston Peters.
Mr Peters was explaining why his party had not supported the passage of the Bill, and one other, a decision that saw it accused by Leader of the House Gerry Brownlee and Treaty Negotiations Minister Christopher Finlayson of "appalling behaviour".
Maori Party co-leader Marama Fox said the party had shown "utter disrespect".
Mr Peters said there were very good reasons for not supporting the Ngatikahu ki Whangaroa Bill, which, if passed, would be destined to end up in the High Court or back at Parliament.
"Ngāti Aukiwa say Stony Creek Station should be returned to their hapū, not the whole iwi, as the settlement Bill requires," he said.
"This has to be resolved before any Bill is passed, otherwise an error is compounded, making a court case inevitable. And who will pay?
"The same problem exists now as it did many years ago when Dr Michael Cullen, as a representative of the Crown, attempted to negotiate a settlement, but without success.
"And it's not going to be settled by passing this flawed Bill.
"We should put the firepower in, get the facts, and investigate and find a solution so everyone in Whangaroa is happy.
"What we have, unfortunately, is a whole lot of MPs excusing their support for this Bill by saying many people have a relationship to certain blocks of land in question. That is not the point. Who has the principal relationship is the judgement that should be made now."
Meanwhile New Zealand First's refusal to support the Taranaki Iwi Claims Settlement Bill was based on its opposition to race-based appointments.
We should put the firepower in, get the facts, and investigate and find a solution so everyone in Whangaroa is happy.
"New Zealanders should be very concerned about this Bill, which hands power to iwi by giving them six decision-making roles on a local authority without being elected," Mr Peters said.
"This law will force the Taranaki Regional Council to appoint six iwi members, three on the Policy and Planning Committee and three on the Regulatory Functions Committee.
They will not be elected, but nominated by iwi, need not be subject to an iwi vote, and they will be paid for by the ratepayers.
"This is electoral apartheid."
In part the Bill's Clause 31 came from the Local Government Act 2002, but the government had changed a critical word, which allowed for racial preference without an election.
"Instead of stating a local authority 'may' appoint people from the outside, it states that the council 'must' appoint members nominated by the iwi," he said.
"This has been done by stealth. The government and the Maori Party are in cahoots on this.
"The perpetrators have the nerve to slide this under the noses of the people of Taranaki.
"It was New Plymouth that gave a resounding no vote to creating a Maori ward on the local council. It was a landslide, with 83 per cent saying no. This government told New Zealand it did not want race-based policies either, when it campaigned on 'Kiwi not iwi,' but it has gone back on its word.
"The country is being steered by National toward race-based appointments.
"The extraordinary reaction from the National Party (to New Zealand First's refusal to support the Bill) relates to their pique at being found out," he added.