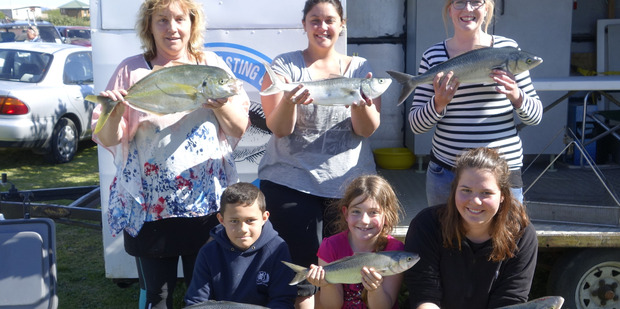 Female anglers ended up scooping the main cash prizes in the last 90 Mile Beach Surfcasting Club contest earlier this month.
The Liquor King Field-day on Sunday, September 11, attracted a big field of 30 club members and one visitor who enjoyed early spring conditions, albeit with a little bit of a chill factor and a reasonably calm sea with about 1m of swell.
The club's report said the fishing took place from 7am to 2pm over a 1am low tide where only one trevally and 14 kahawai were weighed in. With water temperatures still very low, no snapper were caught.
First place went to Jo Arthur with a 2.06kg trevally, while the runner-up prize for heaviest kahawai was claimed by the visitor, Gemma Dixon, with her 2.12kg fish.
That also won her the haggle which had been set for a 2.76kg snapper/ kahawai.
Other prizewinners were: Bridgett Shapiro 1.44kg kahawai 3 (i.e. 3rd), Amber Rogers 1.39kg kahawai 4, Jack Rogers 1.24kg kahawai 5, Moira Rogers 1.20kg kahawai 6, Mark Frost 1.11kg kahawai 7, Koby Hokai 1.06kg kahawai 8, Madeline Shapiro 1.03kg kahawai 9, Dennis Clarke 0.94kg kahawai 10.
Organisers expressed their gratitude to the sponsors for providing plenty of drawn prizes for both senior and junior anglers, including a dart board - raffled and won by Rachelle Craig - as well as the barbecue feast and refreshments at the prizegiving which were enjoyed by all.
The club's next field day is this Sunday, fishing from 8am to 3pm over a 2.9m 11.19am low tide.
It was noted this is an ordinary club field day with prizegiving held at the club caravan. For more information, contact Jack Rogers (0272) 784 857.