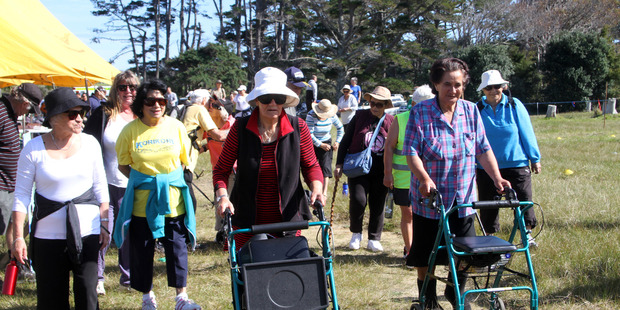 More than 100 participants and a dazzlingly fine day combined to make last week's inaugural Pipiwharauroa Hikoi for Healthy Nature, Healthy People at Lake Ngatu an unqualified success.
It was a day for young and old, and for the minimum or formalities, Kaio Rivers (Ngai Takoto) welcoming everyone, and recalling that the lake and its surrounds had been his playground when he was a pupil at what was then Paparore Native School, 62 years before.
Mayor John Carter, who said he had brought his 92-year-old mum along so Pacific Economic Development ambassador (and Ngati Takoto spokesman) Shane Jones had some chance of avoiding the wooden spoon (although it was not a race), thanked Rangitane Marsden and Ngai Takoto for their work in the community, and Healthy Families Far North and DOC for their contribution to the day.
"This is about a community getting stuck in and looking after itself. At the end of the day it's what we do for ourselves that is important," he said.
Mr Jones added his welcome, and commented that the beating sun was not a recipe for long speeches or campaigning for votes.
He then indulged in a departure from the script.
"Jones," he accused the Northland Age of saying, "with a puku like that you SHOULD walk around Lake Ngatu.
"Jackson, I replied, with a puku like that, you should walk to Wellington." (The names of all who laughed have been noted).
All banter aside, the organisers could not have wished for a better welcome to spring, coupled with promotion of physical activity and access to the district's walking tracks and reserves for Conservation Week 2016.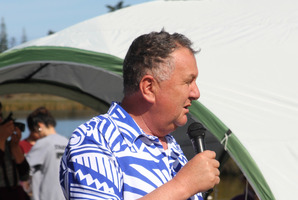 In a twist to the national promotional drive, which encouraged children and young people into the outdoors, this event put kuia and kaumatua up front as community champions for good health and well-being.
M Jones also spoke of the symbolism of the pipiwharauroa, or shining cuckoo, whose distinctive call traditionally marks the change in season.
Meanwhile, as walkers from local kaumatua and kuia groups, health providers, kohanga reo and schools set off on the four-kilometre loop around the lake they identified and talked about the rongoa Maori native plants they saw, while children and adult helpers from Paparore School collected rubbish along the track and checked on the thriving manuka seedlings they had planted in the past.
Awaiting them when they returned to the starting point were a sausage sizzle, a rongoa Maori workshop, traditional Maori games and kayaks for those inclined, while others simply relaxed and chatted in the shade.
Department of Conservation community ranger Shayne Storey said she was delighted with the turnout.
"This has been a huge success. We couldn't have wished for a finer day, and I'm so pleased to see so many of our community getting out here and making the most of it."
A LITTLE HISTORY
As well as enjoying a day in the sun, many of those who took part in last week's welcome to spring at Lake Ngatu might well have learned something.
Shane Jones explained that Ngatu could be attributed to Tohe (who gave his name to Te Oneroa a Tohe, 90 Mile Beach), who journeyed south to look for his daughter Raninikura. He had paused there, rearranging the load on his back, Ngatu meaning a place to stop and rest.