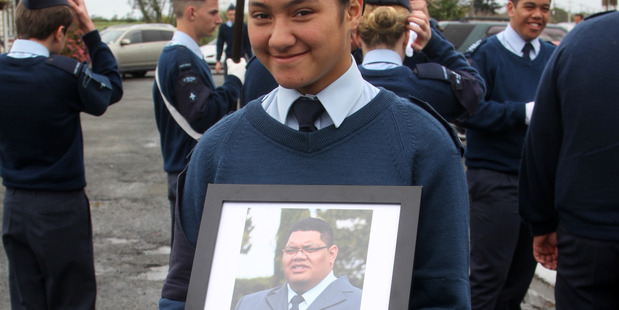 Only a handful of people braved a cold, windy morning to commemorate the Battle of Britain at Waipapakauri on Sunday, but Pastor Graeme Baucke told them that the courage of those who achieved air supremacy over the English Channel 76 years ago, ending German plans to invade Britain, should not be forgotten.
"Our part today is to be grateful and thankful for the freedom won by the few," he said.
And while Waipapakauri was a very long way from the first major military campaign to be fought entirely in the air, it too had played a role in the defence of King and country according to WO Donny Donnelly (RNZAF).
"As Britain had been protected, we also needed to protect New Zealand as one of Britain's allies and an enemy to both the Germans and the Japanese. Protection of New Zealand became a priority," he said.
RNZAF No 7 Squadron was formed in February 1942, with 18 Vickers Vincent aircraft, primarily to patrol the skies over Northland and the northern approaches.
With the immediate threat of invasion and raiders passed, the squadron was disbanded in May 1943.
In 1942 the airfield was home to 26 officers, 250 airmen and 110 Women's Auxiliary personnel. Two hundred members of the Home Guard and an anti-aircraft battery were stationed nearby.
One of the first operations was undertaken by a flight of three aircraft that joined the hunt for the German surface raider Orion, which had laid mines at the entrance to Auckland Harbour.
The airfield was also strategically important for the refuelling of aircraft flying to and returning from the Pacific.
"At the conclusion of hostilities in 1945 RNZAF Station Waipapakauri was closed and the facilities were abandoned for the far more suitable Kaitaia airport," WO Donnelly said.
"However, remnants of the airfield still remain.
"The base hospital and officers' mess is now the Waipapakauri Hotel. The main runway is still well defined, and can be seen from the air, as well as on Google Earth, along with the operations command control bunker and some weather-worn hangar revetments.
"The monument, with its DC3 Dakota propeller, was erected in 2005, honouring the importance of this area in the defence of New Zealand, and most importantly to commemorate those who served here."