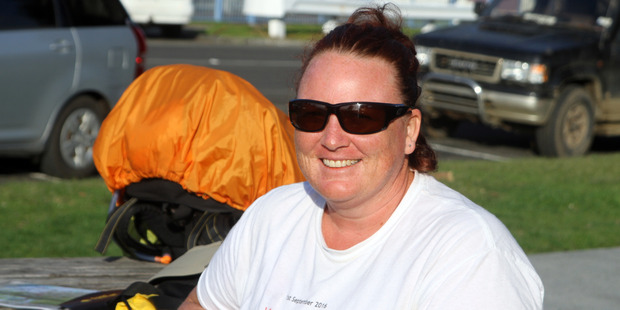 She has done Ninety Mile Beach - deeming it magnificent, despite the challenges of tides and soft sand - and yesterday Nikki Ladd was about to go bush as she continued her walk from Cape Reinga to Bluff.
The "40-something" call-centre worker, who is from Northland but has lived in Australia for the last 10 years, is making the trek to raise money - and more importantly awareness - for research into multiple sclerosis, but it's a personal challenge as much as anything.
Ms Ladd suffered a foot injury in January, and while she had made good time on her first five days she was preparing to pace herself a little more carefully, with yesterday's leg being a short one from Ahipara to the top of the Herekino Gorge and 500 metres into the bush.
At least that was the plan. When she arrived at the track entrance she found it had been closed as protection against the spread of kauri dieback, so she was "hitting the tarmac" to Takahue.
But she wasn't alone though. She had named her backpack Nigel, to give her something (or someone) to swear at when she felt the need.
"No, I'm not crazy," she insisted as she enjoyed her morning coffee yesterday.
And it isn't just her and Nigel - plenty of supporters are following her progress; since setting off on September 1 she had raised $600, adding to the $11,000 raised before she set off.
She would be following Te Araroa to Bluff, but was planning a brief diversion to Moerewa, and Orauta, where she grew up and went to school to look up family and friends, "and to see if anyone remembers me".
Ms Ladd was anxious to raise awareness of MS as she went. It was an illness that predominantly afflicted women aged 25 to 30, of Caucasian descent and further from rather than closer to the equator. It was prevalent in the UK, Scandinavia, Australia and New Zealand, she said, for reasons that no one could explain.
And while she had been covering significantly more than the 20km per day that she was targeting, she was taking the time to reacquaint herself with the beauty of her homeland.
"I had forgotten how beautiful this place is," she said.
"We are so lucky to grow up in a country like this. Now I've got some beautiful hills to look forward to. They are much bigger than your average Australian hills."
One of the logistical problems she had planned for was ensuring that she did not run out of water. Nigel was carrying five litres, along with 4.5kg of food and with an eight-day bush section of Te Araroa ahead of her she was rather hoping for rain.
She was amusing herself on the trail with songs retrieved from her childhood.
- For more details check out www.walkNZforMS.com.au.