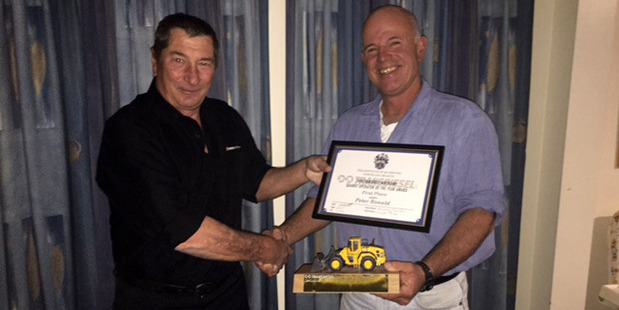 Last year Keith Tahu, an employee of Kaitaia firm Bellingham Quarries for 42 years, won the Institute of Quarrying's inaugural Good Bugger title at the Northland awards night.
And now another long-time employee is in the spotlight.
Peter Ronald received the 2016 Quarry Operator of the Year award at this year's Northland branch of the Institute of Quarrying awards night in Whangarei.
"Peter is passionate about anything and everything to do with quarries," David Bellingham said.
He had begun in 1989, at Schuler's quarry, near Katikati, driving a bin truck then moving on to operating loaders, trucks and trailers, dumpers, a bulldozer and a Gardner Denver rock drill over the eight years he was with the company.
"His previous boss said the only thing wrong with Pete was that he was losing his hair. He was spot on, but he's not losing his hair any more," Mr Bellingham said.
In 1995 he acquired his shot firer's certificate, and a B Grade quarry manager's certificate in 1996.
After a few years out of the quarrying industry, working in a kiwifruit orchard and as a self-employed logging contractor, he became involved in a family business venture and moved to the Far North, and, unable to get the quarrying bug out of his system, he joined Bellingham's in 2000, working at various sites in the area.
In 2013 Pete set a personal goal of achieving his A Grade quarry manager's certificate through unit standards training and home study, while working 10 to 12-hour days.
"He completed his studies and got his ticket within 12 months, a credit to his commitment to become an A Grade manager," Mr Bellingham said.
"He then carried on and completed the necessary unit standards to obtain the new Worksafe unrestricted A Grade quarry manager's certificate at the end of 2015.
"He is a competent operator, who is responsible for our Metso LT105, LT200 and Sandvik QA331 mobile crushing and screening plants, which he feeds with a Hitachi 350H excavator and Volvo 150E front-end loader.
"Pete recognised the need to have a comprehensive written job description and SOP document to cover all aspects of the plant's operation from what he had learned," he added.
"He produced a 20-page, 6000-word guideline that covers everything from how to load the transporter to setting up plants, various configurations for different product types, methods, maintenance, transporting plants and troubleshooting.
It also includes sketches and drawings to complement the descriptions, all of of which he completed in his own time with no expectation of being paid.
"Pete focuses on efficiency and production targets, producing in excess of 135,000 tonnes a year, often under trying conditions at several remote sites around the Far North.
He is loyal to the company, has a positive attitude, is well liked, leads by example, and has a great sense of humour, always seeing the funny side of things."
"We're pretty sure he's of Scottish descent, always considering how to save the company money, which is very much appreciated," he added.
Any free time was spent working on his lifestyle block at Houhora, or sitting on the deck "drinking cheap wine".