But in the meantime unemployment rises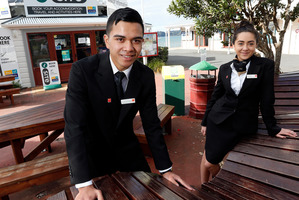 Northland's "positions vacant" columns will be dominated by ads for tradies, chefs and hoteliers over the next four years, with construction and tourism set to be Northland's boom industries.
By 2020, Northland will need 2723 new construction industry workers, with the creation of 1317 new positions and 1406 workers leaving the 6869-strong sector.
This growth has been attributed to "spill-over" from the Auckland residential market and large-scale projects, including work to improve State Highway 1, school upgrades and the installation of the Hawaiki Cable.
The tourism industry, which presently employed just over 5000 people, would need another 1352 workers, with 236 of these positions new jobs and the rest from those leaving the sector.
QRC Tai Tokerau Resort College opened in April and had 35 students, many of whom had already been offered jobs, said operations manager Kelly Kahukiwa.
All but one of the students at the specialist tourism school were Northlanders, and Mr Kahukiwa said tourism businesses were looking to employ locals.
"At the start, students were thinking there wasn't a lot on offer here [in Northland]. Now, like they're like, wow, there really are opportunities."
The labour demand statistics come from a report by the Upper North Island Strategic Alliance (UNISA), a collaboration among councils in Northland, Auckland, Waikato and the Bay of Plenty.
The UNISA report stated the tourism sector was often seen as unattractive because of menial work and low wages. Mr Kahukiwa said current demand was for "more highly skilled managers -- someone who can lead a team".
He named Paihia, Peppers Carrington Resort and Helena Bay Lodge as the "hot spots" in terms of jobs.
"Visitors numbers have grown by 10 per cent in the Far North this past year," Mr Kahukiwa said. "Whangarei has actually seen a decline, but it has the biggest potential ... If the Hundertwasser [Art Centre] comes, that will create some intrigue."
Quest Whangarei owner/operator Matthew Davidson agreed that Whangarei was the under-achiever in terms of Northland's tourism market. While business was good during the week -- "we are a corporate town" -- the city was not seen as a holiday destination, he said.
"On the weekend we kind of die. It's a trend with the motels around here. A lot drop their prices to try to get someone in the room."
Mr Davidson had five staff and said while they "worked hard and got the job done", most did not see tourism as a career.
"We have high unemployment [in Northland] so you get people who are absolutely desperate to hold on to their job ... But overall the number of skilled employees up here is lacking." Mr Davidson, too, named the Hundertwasser as the town's tourism silver bullet.
Over in building, Paramount Construction managing director Donald Kerr said an industry once characterised by long hours, hard work and low wages could now reap rewards for the well trained.
"There's a shortage of good people. If you're paying top rates you'll get good people ... Years ago [workers] were under-valued. Now, a suitably qualified person can earn good money."
The UNISA report identified the biggest skill shortages as plasterers, tilers, builders and painters.
Paramount built commercial buildings and Mr Kerr said things were "ticking along" for his firm.
"The residential guys are really, really busy ... For us, we're lacking in the bigger industry up here now. But it's better than it has been."
The report also identified freight and logistics as a significant sector for Northland, requiring 871 more workers by 2020.