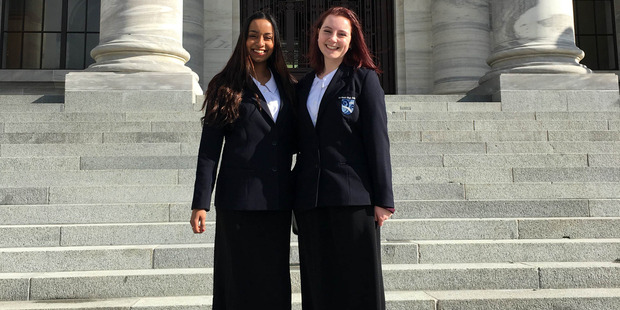 Two Year 13 Youth Enterprise Scheme (YES) students at Kerikeri High School have come up with a plan that they say should help to reduce the number of car accidents involving tourists.
Alex Ough Dealy and Nikara Tikaram established their business at the beginning of the year with overseas exchange student Malte Staab, from Wiesbaden, in Germany, who has since returned home.
Their objective is to make all road users aware of drivers who may not be used to Northland roads by supplying them with bumper stickers.
'Please Be Patient' is the message on the sticker, with the strapline 'We're enjoying the view.' The politeness is deliberate.
"We initially thought to produce a T-plate, as in tourist, but decided against that because it could be seen as discriminatory," Nikara said.
"And we want the stickers to be tourist-friendly."
According to the Ministry of Transport, 5.7 per cent of fatal and injury crashes involve an overseas licence holder. In the Far North, nine per cent of crashes over a five-year period (2010-2014) involved an overseas driver, higher than the rates in Rotorua (seven per cent) but well below those in Queenstown Lakes (25 per cent) and Southland (24 per cent).
Alex said Northland roads in general were different from the rest of the country's.
"We have quite a few winding roads up here, and there are a lot of one-lane bridges, which tourists might not be familiar with," she said.
The company, TLinks (links is the German word for left) has a website and a Facebook page, the intention being to market the stickers mainly via social media and with the help of numerous sponsors. They intend to produce their own YouTube clip in the future, depending on finance.
TLinks also has stickers for inside a vehicle that warn to keep valuables safe, a nod to the number of thefts from the cars and campervans of tourists.
Nikara and Alex also have some high-powered support, from Associate Minister for Transport Craig Foss, who they called on in Wellington and is encouraging their initiative.
They will have a site at the Old Packhouse Market in Kerikeri on Saturday with promotional material, alongside other Far North YES students who will also be showcasing their services and products.