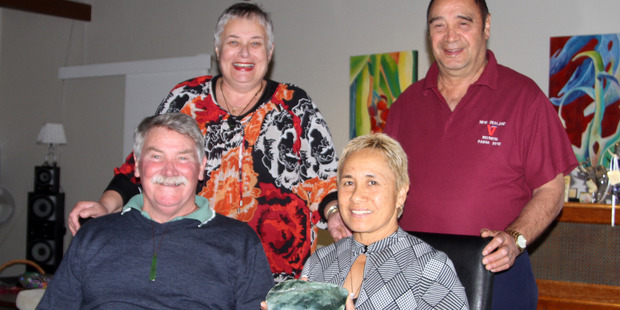 Rose and Rex Matthews were back in the Far North last week, with some very special gifts to deliver.
The couple, originally from Awanui and Opononi respectively, wanted to thank the couple who replaced the two-volume history of the Anzac Battalion in Vietnam in 1967-68, earned by veteran Rex but stolen from his car outside the Waipapakauri Hotel in 1970 (One final hope for an old soldier, July 14).
She and her husband had been fretting about the loss of the books for almost half a century, Mrs Matthews said when she asked the Northland Age to make one last, extremely optimistic appeal for their return.
They still don't know who took the books or what became of them, but Pamapuria couple Murray and Serafina Lay read the story, and came to the rescue.
Mr Lay said he was helping out at Women's Refuge in Kaitaia, where his wife works, when he discovered a quantity of books that had been donated but had never got out of storage in a garage.
Among them were the two volumes recording the Anzac Battalion's story in Vietnam.
"They looked too good to be left floating around, or go to the dump," he said, "but there was no hope of finding who had owned them, so I put them in a safe place. Then I saw the story about what had happened to Rex's books."
Mr and Mrs Matthews were thrilled almost beyond words to receive the books, and last week they travelled north from Hokitika, where they have lived for the last 45 years, to thank Mr and Mrs Lay.
They also gave them a large piece of greenstone, which had been given to them by a veteran of Victor II Company, to pass on, and two greenstone pendants.
And the books would be very carefully looked after, Mrs Matthews said.
"An ex-army friend was looking at them and asked if he could borrow them," she said.
"I told him hell no, he was out of luck. He can come to our place every day and read them if he wants to, but they're not leaving the house."