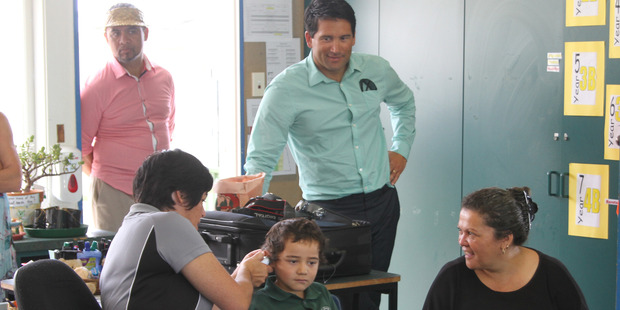 Health Minister Dr Jonathan Coleman and ACC Minister Nikki Kaye have welcomed ACC's involvement with a pilot that's trialling digitally-based medical support for Northland children and their whanau.
"We want to see more patient-centred healthcare, and better use of current and emerging technology to help patients manage their own health," Dr Coleman said.
The innovative virtual iMOKO project, developed by Kaitaia GP Dr Lance O'Sullivan, and is currently being piloted by the Ministry of Health, with the iPad app enabling the remote diagnosis of non-serious conditions, such as skin infections, providing faster assessment and treatment for children who may not be able to easily visit a medical clinic.
"It works by having trained volunteers in schools send photos and notes about the condition to Dr O'Sullivan and his clinicians.
After making a diagnosis and prescribing appropriate medication, the clinicians then send advice on managing the condition via app to the child's whanau or caregivers," Dr Coleman said.
"We know if we can help more of these children early on, there's a better chance of ensuring they're healthy and their learning isn't being affected. New technologies are enabling healthcare providers to reach out to more people and to ensure they receive appropriate support."
Ms Kaye said ACC would contribute $100,000 towards the project to test iMOKO's effectiveness as a means of communicating information about injury management and injury prevention. It would also test its potential to capture data about injury causes, to help inform local injury prevention initiatives.
"The main use of iMOKO to date has been to assess skin infections, many of which result from health conditions such as eczema and cellulitis," Ms Kaye said.
"However, infections also arise from injuries caused by falls and other accidents at home, so ACC is keen to explore how this initiative could assist with both managing and preventing these injuries.
"One of the policy questions this pilot raises is potential funding arrangements for GPs to provide online consultations for under 13-year-olds.
"The Ministry of Health is funding the cost of treatment provided under the pilot. ACC, which currently contributes to free, face-to-face consultations for under-13s, has advised me they're undertaking policy work regarding funding options for technology-assisted treatment.
"Northland has a high percentage of isolated families, schools, early childhood education centres and kohanga reo. ACC's involvement with iMOKO is about looking to help prevent and manage injuries for children who are unlikely to visit a GP," she added.
iMOKO is currently being piloted in 33 schools, 12 kohanga reo and four early childhood education centres in Northland. Medication prescribed using iMOKO is free, and can be delivered via rural delivery or collected by the school.
The programme complement existing health services, focusing on non-serious conditions, and is not intended to replace direct consultations with clinicians.