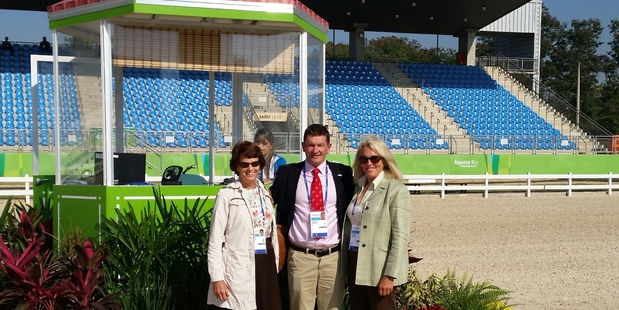 Kaitaia-raised Andrew Bennie, who has attended two Olympic Games as an equestrian competitor, flew from his home in England to Rio de Janeiro on Monday, where he joined Marilyn Payne (USA) and Sandy Phillips (Great Britain) to form the ground jury for the three-day equestrian competitions at the 2016 Games.
Andrew, who began honing the skills that would take him to the top of the equestrian world when he was a child in Kaitaia, said being selected by the FEI (the world governing body for equestrian sports) to judge at Olympic level was a great honour.
He was looking forward to the challenge and the whole experience, while his sister, Kaye Dragicevich, said his family were very proud of his achievements, and excited to have a link with "the action on the inside at the Olympic Village, so to speak."
Andrew will be in Rio until August 16, but will return on September 1 with Natasha Tse, a Paralympic rider he has been coaching.
Natasha is from Hong Kong, but has been staying at Andrew's base, Ingestre Stables, in Stafford, to prepare for the Games.