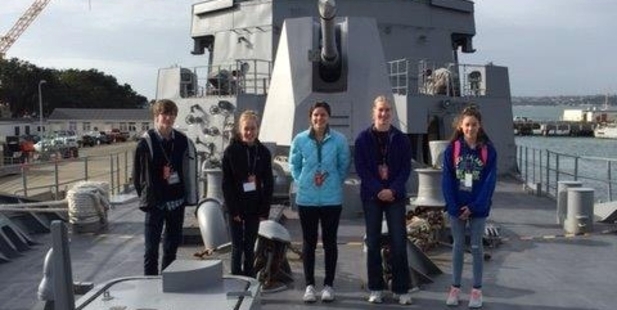 Kaitaia College student Jacinta van der Linden is one of seven finalists in a Royal New Zealand Navy competition for secondary schools.
Operation Neptune, which is part of the RNZN's 75th anniversary celebrations, invited students to develop creative proposals relating to one of the Navy's key themes - Our Navy: courage, commitment, comradeship, or Our Navy: our roots, our story, our mission.
The finalists - the calibre of entries had been so impressive that seven were chosen rather than the six originally planned, according to Lieutenant Commander Lissa Jackson - have already had their first reward, a trip to the Devonport Naval base, and will now further develop their proposals.
The finalists, all from the North Island, have until September 23 to submit their completed work, with the winner to be announced at a ceremony, part of an International Naval Review, at The Cloud in Auckland on November 20, where all seven finalists' work will be displayed.
Jacinta said it had been "incredible and thrilling" to learn that she was a finalist.
"I never thought that my project would be good enough to be selected to go to the next stage," she said.
It was the fact that that competition was something completely different, and that she could design her own project, that had enticed her to enter.
"And I really liked the idea of doing something to commemorate the women who have served in the Navy, as their role has evolved significantly over the years," she added.