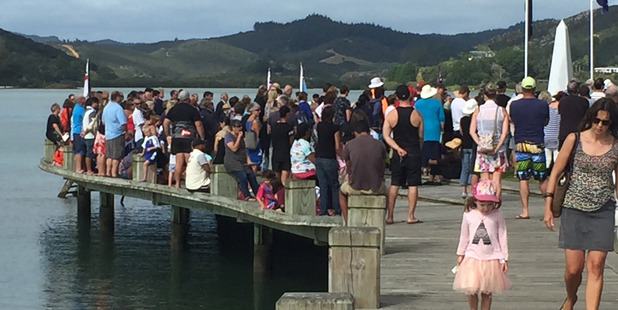 More than 400 local people signed a petition opposing a safety barrier on Mangonui's Neva Clarke McKenna Boardwalk, but one of their elected representatives says no one is taking any notice.
The Doubtless Bay Promotions Group presented the Far North District Council (FNDC) with a 420-signature petition, more than Mangonui's adult population, Cr Mate Radich expressing frustration last week that the group had not been consulted on the design, or the process, or had the petition acknowledged.
The problem, according to the council, is that the structure breaches the Resource Management and Building Acts, with some kind of safety barrier being a condition of the 2003 resource consent. In June NRC chief executive Malcolm Nicolson urged the council to finish the job, but pointing out there was no obligation to erect "railings".
Last week the council agreed to get the process moving by September 30. Mayor John Carter said there was no choice but to comply. Staff would seek a time extension and an amendment to the design within the September 30 deadline, he said.
"One way or the other, there will be a barrier. What we're discussing now is its style," Mr Carter said.
When Cr Radich asked why the locals had not been kept up to date, Mr Carter replied, "Because we haven't decided yet."
Crs Radich and Sally Macauley called for the resolution to include meeting with the Doubtless Bay group, rather than just informing it of the decision.
NRC regulatory services manager Colin Dall has said that if the FNDC had an alternative safety barrier to the original proposal in its consent application, then it also had the option to apply to change the consent conditions to provide for it.
Staff had proposed several design options other than the unpopular vertical handrail ($200,000). The frontrunner, but yet to be worked into a final proposal, was a safety "net" below the boardwalk "to arrest any falls" ($195,000). Others ruled out as not feasible were seabed excavation to remove rocks ($350,000), a bigger toe rail ($100,000), a rock bank below the boardwalk ($200,000), a platform to reduce the fall height to less than a metre ($338,000), and reclamation to within a metre height ($700,000).
In her report, infrastructure and assets general manager Jacqui Robson recommended the FNDC had no choice but to install a barrier as soon as reasonably practicable.
She questioned whether the council would be able to get an amendment "over the line," because it did not have a good track record as far as the NRC was concerned.
Should the lack of a safety barrier contribute to someone's injury or death, the council could be found to be criminally negligent, she said.