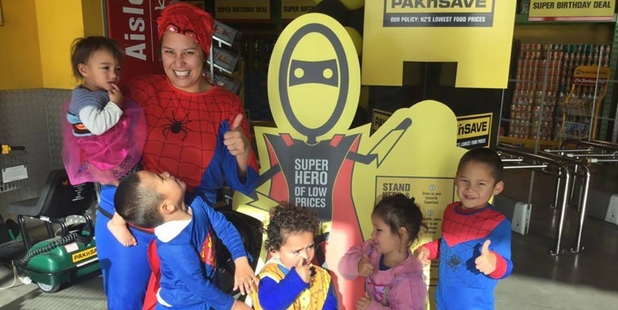 Kaitaia woman Sade Murray went to her local Pak'n Save last month dressed as Spiderman for a supermarket competition, but by the time she got home police were hailing her as a real-life hero.
The 27-year-old teacher was just one of many who entered the competition for a $1000 gift card by dressing up as superheroes and uploading pictures with Pak'n Save's Stickman. But as well as winning the competition, she became a real hero when she intervened in an alleged domestic incident in the carpark.
Sergeant Courtney Sandilands praised Ms Murray, saying she had prevented the incident from escalating.
Police later charged a 32-year-old local man with injuring with intent and threatening to kill. The victim received medical attention, and was being supported by social service agencies.
Ms Murray said she heard swearing coming from a car, and, feeling brave and wanting to help, she approached the vehicle and asked the man to stop what he was doing.
He told her to mind her own business, she said, to which she replied, "In the name of Jesus, I won't.
"As soon as I did that, he looked at me and then tried to take off in the car," she said, but when it stalled he walked off. As he left, a woman inside the car thanked Ms Murray for helping.
Meanwhile, she has given much of her $1000 grocery voucher winnings to family and friends. (The promotion raised $5000 for the New Zealand Breast Cancer Foundation).NZME