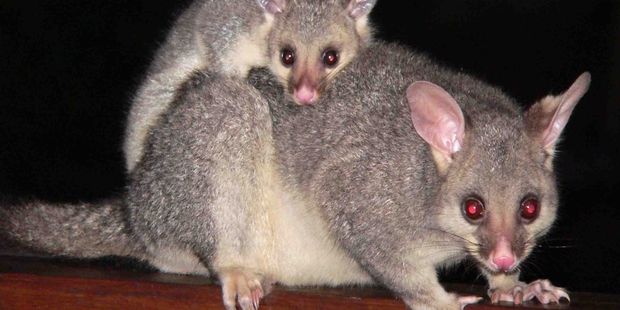 Three Far North residents are believed to be the driving force behind a hikoi planned for next year to protest against the continued use of 1080 poison in our forests.
Although details are sketchy, one Far North District councillor and two community board members are thought to be involved. The intention is to mount a national campaign and mobilise marchers throughout New Zealand starting simultaneously in the Far North and the Deep South and meeting together outside Parliament in Wellington.
The announcement on Monday that the Government is setting up a new joint venture company to eradicate all rats, stoats and possums in New Zealand may add impetus to the hikoi cause.
Dean Baigent-Mercer, Northland Conservation Advocate for the Royal Forest and Bird Protection Society, said while the targets for the Government plan were "admirable" and pest-free forests would see an increase in kukupa, fantail, tui and other native birds, the $28 million the Government was providing to help make New Zealand pest-free was a drop in the ocean.
"Since the National Government came to power in 2008 it has reduced the Department of Conservation budget by $56 million a year over the last Labour Government's budget," he said.
"Most of our forests are in free-fall collapse and it's the Government's job to look after the native forests, but it's a slippery slope giving it to corporate interests." Mr Baigent-Mercer said the suite of tools likely to be used in the eradication programme included new-generation trapping and 1080 poison drops.
The new joint venture company, Predator Free New Zealand, will identify large-scale pest eradication projects over the next four years and invite private investment to help reach targets.
For every $2 put towards pest control projects by councils and the private sector, the Government will contribute another $1.
The ultimate goal is to have every part of New Zealand free of the three pest mammals by 2050.
New Zealand First spokesman for Primary Industries and Outdoor Recreation, Richard Prosser, said while the Government plan might be commendably motivated it had the potential to derail into the worst unintentional ecological blunder of all times.
"Some of the shortcomings of this proposal are obvious, while others are revealed as potential unintended consequences that the government has not even considered and cats are not even mentioned, despite being an introduced predator and a major one at that," he said.
Kevin Hague, Green Party spokesperson for conservation, says the aim of making New Zealand predator-free will take more than lip service and he questions the decision to "put the begging bowl out" to make it happen.
"Auckland University estimates it will cost $9 billion to make New Zealand predator-free. We have real concerns over what will happen to this predator-free dream if the Government can't attract private funding or if that private funding dries up," he said.