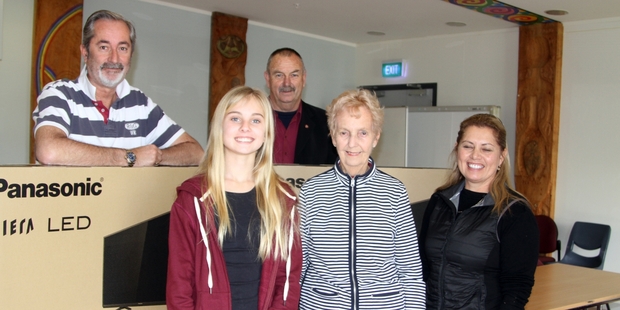 If the theft of a television set from the Shirley Crawford Haven at Kaitaia Hospital ('Mongrel' thief of Haven TV sets new low, July 7) cast Kaitaia in a bad light, last week the community showed its other side.
Two replacements were offered - by Northland District Health Board member Colin Kitchen, closely followed by Greg and Jackie Young - the day the story was published, with four more offered over the next few days.
And it wasn't just the Far North that showed a generous streak. One offer came from Auckland and another from Wellington.
Mr Kitchen and Mr Young, accompanied by his mother Judith and daughter Grace, presented their sets to hospital operations manager Neta Smith last week, both saying they wanted to give something back to a community and an institution that had been good to them.
Mr Kitchen said the Haven had provided comfort to family, whanau and friends, and he knew how important it was to the community, while Mr Young, son of the late GP/obstetrician/anaesthetist Dr Tom Young, said the hospital had always been a huge part of his life.
He now lives in Auckland, and read about the theft when his digital copy of the Age arrived. He went out that lunch time to buy a replacement set, but was "gazumped' by Mr Kitchen. His set was gratefully accepted, however, on behalf of the children's ward, which he said would be "right up Dad's alley".
"He [Dr Young] would not have been happy to hear about the theft," Greg added.
"Stealing anything from a hospital is bad enough, but from the Haven ... "
He and Mr Kitchen agreed, however, that the silver lining to this particular cloud was that the theft had given people the chance to show they cared, as had many before them.
"This community has been giving to the hospital for years," Ms Smith said.
"It's always been there when it has been needed."