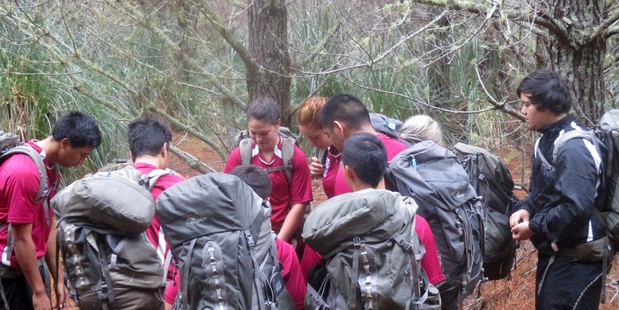 If they had been hoping for a pleasant week in the great outdoors, the 12 Te Puna Mana Toa (Kaitaia College Services Academy) students who took part in the latest NZ Defence Force course were disabused even before they left the comforts of home.
The forecast was for wind, rain, thunder and hard work, academy director Dudley Andrews said, before he and his troop set off for the Kaipara air weapons range in Woodhill Forest.
This the third of the NZDF-led courses was designed to give the students the bushcraft skills needed to enable them to enjoy bush conditions safely and effectively, Mr Andrews said.
The students, part of 2 Platoon alongside others from Hato Petera and Kelston Boys' academies, were instructed in tramping, camping, bush hygiene, basic survival, navigation, constructing improvised stretchers, camouflage, concealment, knots, lashings and much more, all aimed at assisting them in gaining standards in Level 2 camping and tramping.
The first day wasn't so tough. The students were greeted by their military instructors, and (with a new-found sense of urgency, Mr Andrews said) were formed up on the road, equipment at their feet, as they were briefed before erecting their tents and setting up their night loc (camp site).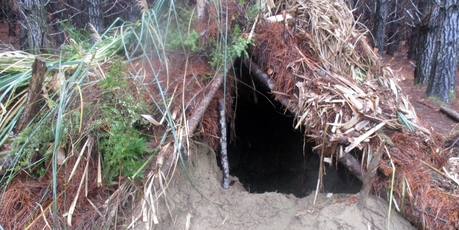 Morning people or not, everyone was woken bright and early on day two for six-kilometre navigation circuits, the students planning, briefing and lead their sections along tracks and through thick bush to specific locations.
At the end of a very long day they went straight into their next lesson, building improvised shelters.
The third day's tasks were much the same, but the tempo and expectations for completing the navigation circuits were raised, Mr Andrews said, requiring the students to remain disciplined and motivated to help their peers. To add to the fun it began to rain, heavily, although morale remained high.
The third and final navigation circuit included building an improvised stretcher from the materials at hand and carrying a member of the section.
"Any soldier who has taken part in an improvised stretcher carry quickly understands the mental and physical strength required," Mr Andrews said.
The students had had to dig deep to finish, and were straight into building improvised shelters for their last night, under the watchful eyes of NZDF staff. Before heading home the students thanked their instructors with the school haka.
"During the drive north the conversations were of the confidence gained and moments of realisation, understanding and strength," Mr Andrews said. "I am proud to say that they conducted themselves to a high standard throughout the course, showing leadership and enthusiasm both day and night. Thank you to the Youth Development Unit North (YDU) NZDF for their professionalism and compassion for our youth."